John Kaiser's Tips For Escaping The Resource Sector Swamp Alive
What if the goldbugs are wrong and fiat currency isn't going to throw the world into hyperinflation? What if, instead, a steadily growing economy and a new awareness of the importance of having security of supply for critical metals, along with a big exciting discovery that heats up the resource sector, are what pull sinking gold and silver prices and their related mining companies out of the muck? If so, John Kaiser tells The Mining Report that he has set his sights on the dozen companies that would star in this horror-turned-romantic epic adventure.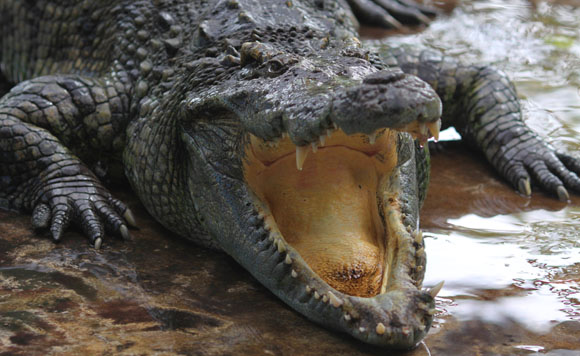 The Mining Report: At the Cambridge House Canadian Investment Conference in Toronto, you talked about escaping the resource sector swamp. Why do you call the current market a swamp?
John Kaiser: There are four key narratives that dominate the resource sector, in particular the junior resource sector. One is the supercycle narrative where a growing global economy catches the mining industry off guard with the result that higher-than-expected demand results in higher real metal prices. That then unleashes a scramble to find deposits that work at these higher, new prices and put them into production. The juniors played an extraordinary role during that cycle in the last decade; however, global economic growth has slowed. Therefore, we are looking at a period of sideways, possibly weaker, metal prices for a number of years, which puts the supercycle narrative on hold. That is one factor keeping the sector in a swamp.
"Clifton Star Resources Inc.would definitely benefit from gold jumping back through $1,500/oz."
Another important narrative is the goldbug narrative, where a soaring gold price is going to make deposits much more valuable. We did see that play out. Gold reached $1,950/ounce ($1,950/oz) briefly, but has since retreated 40%. Even though that's still 400% off the low from just over a decade ago, it has turned out to be a wash in real prices. Now, growth projections in the U.S. are having negative implications for the prevailing apocalyptic goldbug narrative. That does not bode well for an escape from the quagmire.
A third key narrative is security of supply, which we saw manifested in the rare earth (RE) boom in the past five years. However, the RE prices have come back to earth as substitution and thrifting has kicked in. The anxiety that China is going to eclipse the U.S. anytime soon has diminished, and the concern that there will be supply squeezes around the world has diminished.
The fourth narrative, which has dominated the junior sector for two of the past three decades, is that of discovery exploration. Unfortunately, there have not been many very good discoveries in the past decade that have inspired confidence in the retail sector. Add to that the structural changes in the financial services sector that make it increasingly difficult for junior public companies to source retail investor capital.
These are the forces that are keeping gold—and junior mining equity—prices bogged down.
TMR: Let's look at each of those narratives a little bit closer to determine what they mean for junior mining companies. If China's growth is slowing and the U.S. recovery remains hesitant, what does that mean for base metals—copper, nickel, iron and zinc?
"Exeter Resource Corp.'s gold-copper Caspiche deposit has been modeled for multiple mining scenarios."
JK: In the last decade, juniors have made a career of picking up deposits found in past exploration cycles and discarded as marginal because the grade wasn't high enough. The juniors did a tremendous job of reevaluating their potential based on new prices and technology. That led to $140 billion ($140B) worth of takeover bids, compared to the $5B per decade in the 1980s and 1990s. These deposits now sit as inventory in the big mining companies.
That means when we get another price boom, the big mining companies will develop these projects to supply the demand surge, not acquire juniors that claw a new batch of discarded deposits out of the closet. Investors interested in juniors with advanced deposits will have to focus their attention on an existing pool of juniors that will shrink as they disappear through buyouts or mergers with very modest premiums off cyclical market lows.
TMR: Would you apply that scenario to all of the base metals?
JK: Copper and iron are the ones that are faced with oversupply in the next couple of years. Nickel is a special situation because it was being oversupplied until Indonesia imposed an export ban on raw laterite ore. The Philippines is contemplating doing something similar. Should this come to pass, then we will have temporary shortages of nickel, and we could see nickel prices going higher. But if Chinese capital builds the capacity to smelt the nickel laterite ore in Indonesia and the Philippines, then we will see weak nickel prices.
"Namibia Rare Earths Inc.'s PEA reported an after-tax IRR of 43%."
The one metal I think will realize higher prices in the next few years is zinc. That is because major mines have started to shut down, and what is coming onstream is considerably less capacity than what is shutting down. Normally, that doesn't really matter because China has been the elephant in the room, the largest zinc producer. China has nearly doubled its production in the past decade. The prevailing view is that if we get a higher zinc price, China will move quickly to put more mines into production. However, I believe, due to a new environmental focus, the country could actually shut down some of its capacity, worsening the supply situation.
Because most large zinc deposits are in remote locations, they will take 7 to 10 years to develop. So I am focusing on smaller-scale zinc deposits, such as the West Desert deposit of I nZinc Mining Ltd. (IZN:TSX.V) in Utah, which could jump onstream faster than some of the big, remote projects. InZinc's updated preliminary economic assessment (PEA) showed it could turn the magnetite skarn zinc into a salable byproduct rather than a costly waste material.
This project appears to work at $0.90 a pound ($0.90/lb), and if we do get zinc at $1.20/lb., it should work extremely well. The company has been able to raise money and has more than $1 million ($1M) in the treasury so that it can ride out any interim weakness in the market. Its next step is to do a $4M exploration program designed to find the limits of the deposit, so that when it embarks into prefeasibility study mode, it will know the perfect project scale.
TMR: When could the prefeasibility study come out and doesn't it still need permitting?
JK: Utah is a very friendly state for permitting mines and even more so with regard to approving exploration programs. Permitting InZinc's delineation drilling program is not the holdup; raising the capital at non-punitive prices is. I hope the company can raise the money it needs to spend in 2015, setting the stage for a prefeasibility study in 2016. Simultaneous environmental studies would put the company in a position to go for a feasibility study in 2017.
"Even though we are in a very dismal financing market, Probe Mines Limited was able to raise $26M of flow-through money."
We are still talking about 2020 as the earliest it could be in production, but that is much shorter than the decade needed to bring giant remote zinc deposits such as Howard's Pass onstream. The uncertainty about the longer-term outlook for zinc creates a window of opportunity to develop smaller zinc deposits such as West Desert.
TMR: Let's go back to your themes. The second one was the goldbug theme. The Federal Reserve is betting that the U.S. economy is good enough to handle rising interest rates as part of a push to jumpstart the global economy. What could this mean for the supercycle we talked about and the apocalyptic goldbug narrative and the companies in the metals space?
JK: If the Fed successfully finesses the transition from quantitative easing and low interest rates to an economy based on positive real short-term interest rates, then we will see the consumer start to feel more comfortable with the future and spend money. Businesses would then start spending the trillions of dollars they are now hoarding or spending on share buybacks to prop up stock prices.
If they shift to building stuff again for the long run, which employs people with quality jobs and signals optimism about America's economic future, then the banks become happy and will start lending money to consumers. It creates a virtuous circle where the economy grows organically rather than artificially. This is also good for the rest of the global economy because it will enable emerging markets to hitch their wagon back to the U.S. as a primary export destination and, ultimately, as a flow of capital back to their own economies to fund self-sustaining economic growth.
A smooth transition to real growth is bad news for the goldbug narrative because if we have higher interest rates and, thus, better yields, that makes gold—which yields nothing—not very competitive. A strong dollar also clashes with the idea that everything is falling apart and, therefore, gold is going to go up due to resulting hyperinflation and fiat currency debasement. But if the Fed is wrong and it merely succeeds in popping a stock bubble and the Dow Jones drops more than the 10–15% that would qualify as a healthy correction, unleashing another asset deflation spiral similar to 2008, then we end up in a very negative scenario for the global supercycle narrative and for the goldbug narrative because gold goes down in a liquidity crunch. Either outcome creates an argument for gold dropping through that $1,180/oz resistance level and touching $1,000/oz on the downside.
Disclosure: JT Long conducted this interview for Streetwise Reports LLC, publisher of The Gold Report, The Energy Report, The Life Sciences Report and The Mining ...
more