Jobless Claims Fall Further
This is the exact opposite of the 2000's housing bubble even though prices are rising just the same. As you can see from the chart above, mortgage credit availability hasn't even recovered to where it was before the pandemic. Lending before the pandemic was nowhere near as easy as it was in 2005. That's how far we are from that bubble. Demand is real and supply is scarce.
As we mentioned, just because this isn't a bubble, this doesn't mean it's good news. We don't want home prices to continue increasing this much in such a short amount of time. This isn't a stock where no one is hurt by a rising price (outside of short sellers of course). Affordability is taking a major hit.
Furthermore, if rates were to spike, prices would fall, causing owners to be stuck with very high mortgages and lower equity. That could hurt consumer confidence.
Tax Inversions
The government can be painfully slow to react to problems in the system. That's why we are so surprised by the stimulus in the spring of 2020. The government actually acted quickly to save people financially. That was a welcome shock for many. Getting back to how the government usually reacts, we turn our attention to corporate tax inversions.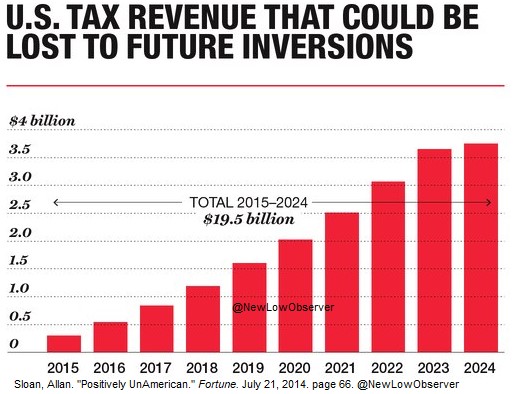 The US government is finally on board with a global minimum corporate tax of 15% so corporations don't flee to tax havens. The goal is for the G-20 to agree on a deal in the middle of this year. The chart above shows future tax revenue that could be lost to future tax inversions.
If you glance at the fine print of this chart, you can see it was made in July 2014. The US government is just getting around to this problem seven years later. It could have saved almost $10 billion if it would have gotten to this earlier. Remember, this plan will hurt the multinational tech companies the most.
Conclusion
Jobless claims keep falling, but they are still painting a worse picture of the labor market than reality. The April jobs report is coming this Friday. The consensus is for 853,000 private sector jobs added and for the unemployment rate to fall 0.2% to 5.8%. We will be closing in on full employment before you know it.
Disclaimer: The content in this article is for general informational and entertainment purposes only and should not be construed as financial advice. You agree that any decision you make will be ...
more