Jobless Claims Fall Further
The Consumer Looks Great
The consumer had a great April. It will be fun to see the final tally in the retail sales report. This summer will be amazing for domestic leisure and hospitality firms. As the chart below shows, JP Morgan (JPM) card spending rebounded in the end of April after having a decline in the middle of the month.
Clearly, the February 2020 reading is too difficult of a comp. The seven-day average of spending growth since February 2020 is still -2.4%. The comp of two years ago is much better to look at. Spending growth on that comp is 12.1%.
The consumer sentiment index was up nicely in April. We would have been shocked if it didn't increase. The overall index rose 4% to 88.3. Current conditions were up 4.5% to 97.2 and expectations were up 3.8% to 82.7. The highlighted graphic in this report was the percentage of spontaneous references to high home prices in evaluations of buying conditions.
As you can see below, in the 60-year history of this survey, there were never more mentions of high prices. That's because there is a massive shortage in affordable housing. Entry level housing barley exists. We are far away from supply meeting demand (equilibrium). This is why some say, we need to see higher rates. Keep in mind, this isn't a bubble like in the early 2000's.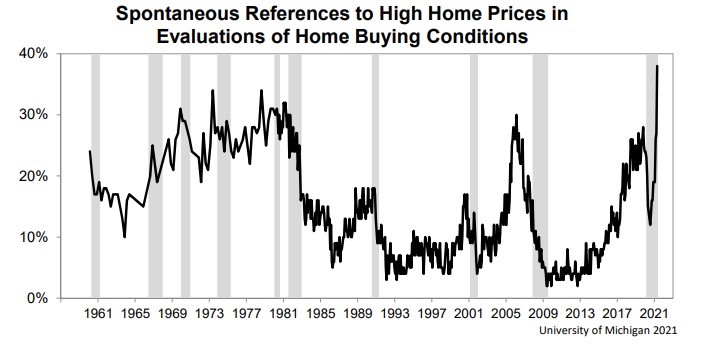 Source: University Of Michigan
Not A Housing Bubble
This isn't a housing bubble, but the huge rise in housing prices isn't healthy either. We want the housing market to be better supplied because higher prices hurt affordability. Of course, buying a house shouldn't be considered the "American dream" because lifestyles and goals differ. However, owning a home can be a critical part of financial stability and building wealth.
One thing to remember re: housing is that lending standards tightened in 2020 post covid and haven't rebounded yet. See below MBA mortgage credit availability index. Crazy to think this hot of a market is being held back marginally. pic.twitter.com/5mtIidumPV

— David Schawel (@DavidSchawel) April 30, 2021
Disclaimer: The content in this article is for general informational and entertainment purposes only and should not be construed as financial advice. You agree that any decision you make will be ...
more