Jobless Claims Fall Further
Our thesis for the past few weeks has been that the labor market is doing better than initial jobless claims signal. The labor market is actually getting closer to labor shortages, which isn't what jobless claims figures have suggested.
The labor market is dynamic. Many industries are already struggling to find workers. There is a contentious battle between employers who say there aren't enough workers and labor supporters who believe employers need to raise pay.
Certainly, you can find someone to do a job if you raise pay enough. Of course, that severely impacts margins for small businesses. The plight of some industries struggling to find workers will spread throughout the country as the unemployment rate falls in the next few months.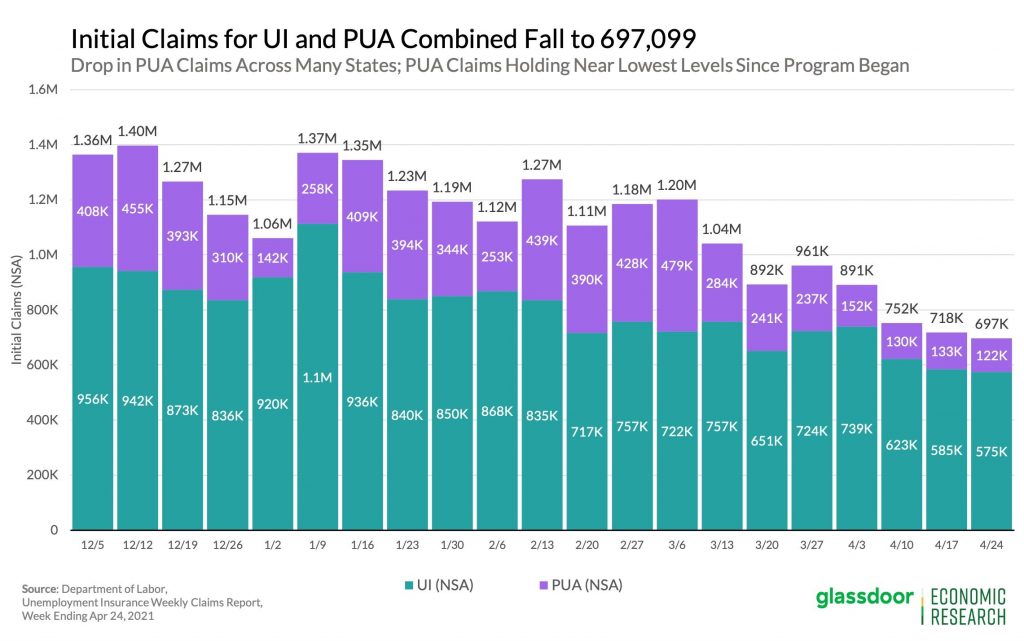 In the week of April 24, seasonally adjusted jobless claims fell from 566,000 to 553,000. That's still quite high, but it's the lowest reading since the pandemic began. The chart above shows unadjusted claims fell to 575,000. PUA claims are only 122,000. Continued claims actually rose very slightly from 3.651 million to 3.66 million.
In the week of April 10, the total number of people on all benefits programs fell 846,000 to 16.56 million, which is still a ton of people. We are within a couple months of extra benefits from the government not being necessary. However, it was better that the government made benefits readily available rather than pulling back too soon.
Why People Aren't Working
The chart below shows why prime age people aren't working. As you can see, the percentage selecting sick/disabled/at risk has plummeted in the past few months. Once that response is normalized, the labor market should be nearly full since companies are going on hiring sprees. The percentage citing business reduction/furlough/temp closure has also fallen, although less so.
The Friday afternoon labor market chart:
Why aren't people working?

Health reasons are high but dropping.
Temporary business slowdowns also dropping.
Retirements are up.
Caregiving hasn't budged.

More details follow ...

1/ pic.twitter.com/B8v9sGKwCa

— Jed Kolko (@JedKolko) April 30, 2021
Disclaimer: The content in this article is for general informational and entertainment purposes only and should not be construed as financial advice. You agree that any decision you make will be ...
more