January JOLTS Report: During The Wintertime Pandemic Surge, Hiring Hit A Brick Wall
Yesterday morning's JOLTS report for January was confirmatory of the weak jobs report for that month, showing a largely paused recovery. Further, for the second month in a row, hires were down sharply. Let's examine this in accord with the data from the prior two recoveries covered by this report, which has only a 20-year history.

In the two past recoveries:
first, layoffs declined
second, hiring rose
third, job openings rose and voluntary quits increased, close to simultaneously
What we will see below is that the big decline in hiring in December and January is a big outlier compared with the prior two recoveries. The remaining data is largely in accord with the pattern from the last two early recoveries: the first two data series to turn - layoffs and hires - did indeed turn, while the last two - job openings and voluntary quits - bottomed more gradually and have since risen less dramatically.
This first graph compares layoffs and discharges (blue) with the 4 week average of initial jobless claims (red) prior to this recession, for reasons of scale since March and April would be "off the charts":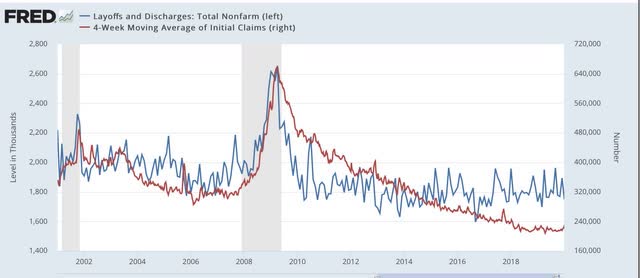 You can see that, by the end of the recessions, layoffs were already declining, and continued to decline steeply over the next 3-8 months before reaching a "normal" expansion level. The turning point coincides exactly with the much less volatile, but more slowly declining, level of initial jobless claims.

After the initial lockdown period, layoffs and discharges had already declined to their "normal" level in May, while initial jobless claims peaked one to two months later, and continued to decline (slowly) into autumn. In November, layoffs and discharges increased, then decreased in December and January, and initial claims followed suit with a one month delay: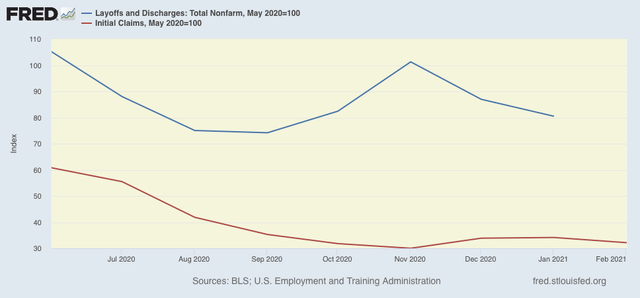 Next, here is the entire historical relationship between hires (red) and job openings (blue) through January 2021:
Disclaimer: This blog contains opinions and observations. It is not professional advice in any way, shape or form and should not be construed that way. In other words, buyer beware.