It's Taking Too Long, The Boom Didn't Boom
At some point, the boom had to have boomed. We are moving into the past tense for all this now, inflation hysteria almost certainly tucked away into the economic ledger alongside four other false dawns. Data is coming in for June 2018, meaning half of this year already recorded and analyzed. It's not what it was supposed to have been.
Even in terms of inflation, there are only regrets. The US CPI registered 2.87% year-over-year last month, but for still another month there is nothing else but energy inside that number. There is what may seem like an unfair (from the point of view of central bankers) asymmetry to oil. When it's down that's deflation and often consistent with the textbook description of what accompanies it.
(Click on image to enlarge)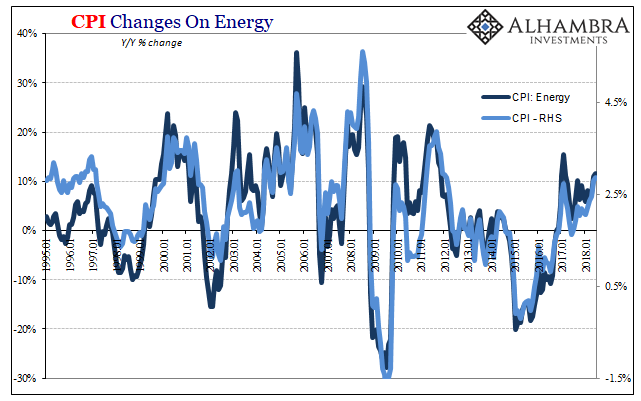 When it comes back, however, it doesn't necessarily mean the opposite thing. At times, like 2010 and 2011, it merely means oil isn't at the bottom anymore.
That may mean this crucial commodity has completed the first step in reflation, but at the same time, it also doesn't guarantee the required second step. The reason economists fixate on consumer prices and define inflation as they do is because there is intuitive sense. The key word in their definition is "broad", as in not narrow.
When oil prices crash they almost always do so accompanied by a whole range of other deflation symptoms. Last time it was a manufacturing recession here and EM-focused calamity; in 2008 it was a US/Europe calamity with only tangential and brief EM experience. Both fit the definition of "broad".
Coming back up off the low, WTI hasn't been corroborated by anything more than overheated rhetoric. The most that should have been said during the inflation hysteria is that oil prices were plausibly suggesting an inflationary breakout could still happen, not that it would or as many were saying already had.
(Click on image to enlarge)