Is This A Fake Move In U.S. Markets Today? We Will Know When The Volume Closes On The Day
As U.S. markets open in the midst of the Thanksgiving holiday season, it's been a traumatic start to the end of the week, with all three indices trading sharply lower, with the Dow Jones falling over 1000 points at the time of writing, with an equally dramatic move on the S&P 500 which has fallen over 100 points. For the Nasdaq100 the move has been less dramatic, but nevertheless is following the sell-off, and is currently trading at 16,161 at the time of writing.
Again for regular readers, you will recall my last post for the NQ Emini futures contract entitled 'Is Santa's rally running out of steam? and perhaps the answer to this rhetorical question as we consider the charts this morning, is that it certainly seems to be the case. The question of course is whether today's market swoon is simply a knee-jerk reaction to the latest pandemic news or a more serious structural fracture before we witness a longer-term reversal in sentiment. This is too early to say as in the past we have seen dramatic V-shaped reversals, so it's a question of being patient and waiting for the volume to confirm today's price action and see what unfolds in the early part of next week. Often during holiday periods, we do see the market makers develop trap moves on low volume and low liquidity, and is a classic move, so the closing volume for today will reveal whether this is a genuine move or fake. I suspect the latter but time will prove me right or wrong.
The weakness I highlighted on the daily chart for the NQ Emini was the wide spread down candle with a deep wick to the upper body of the 22nd November. These are classic candles and when supported with good volume are the ones to search out in any falling market as they provide excellent re-entry points if you missed the initial move.
(Click on image to enlarge)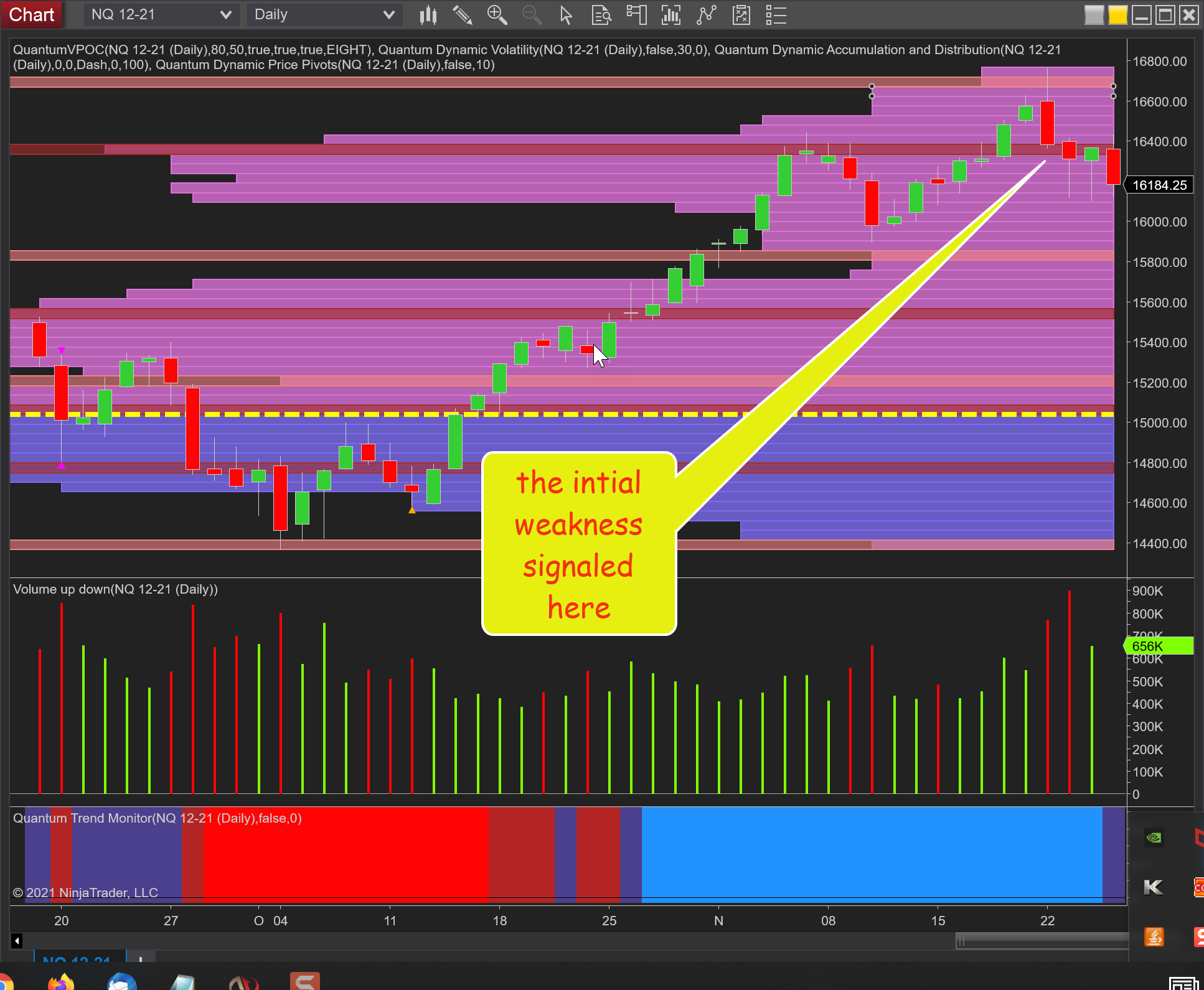 So in summary, given this is a holiday period, I suspect this is nothing more than a fake move designed to trap traders and investors before we see an equally sharp recovery. We will see!
Disclaimer: Futures, stocks, and spot currency trading have large potential rewards, but also large potential risk. You must be aware of the risks and be willing to accept them in order to invest in ...
more