Is Risk Appetite Waning Now The Dust Has Settled At The White House?
(Click on image to enlarge)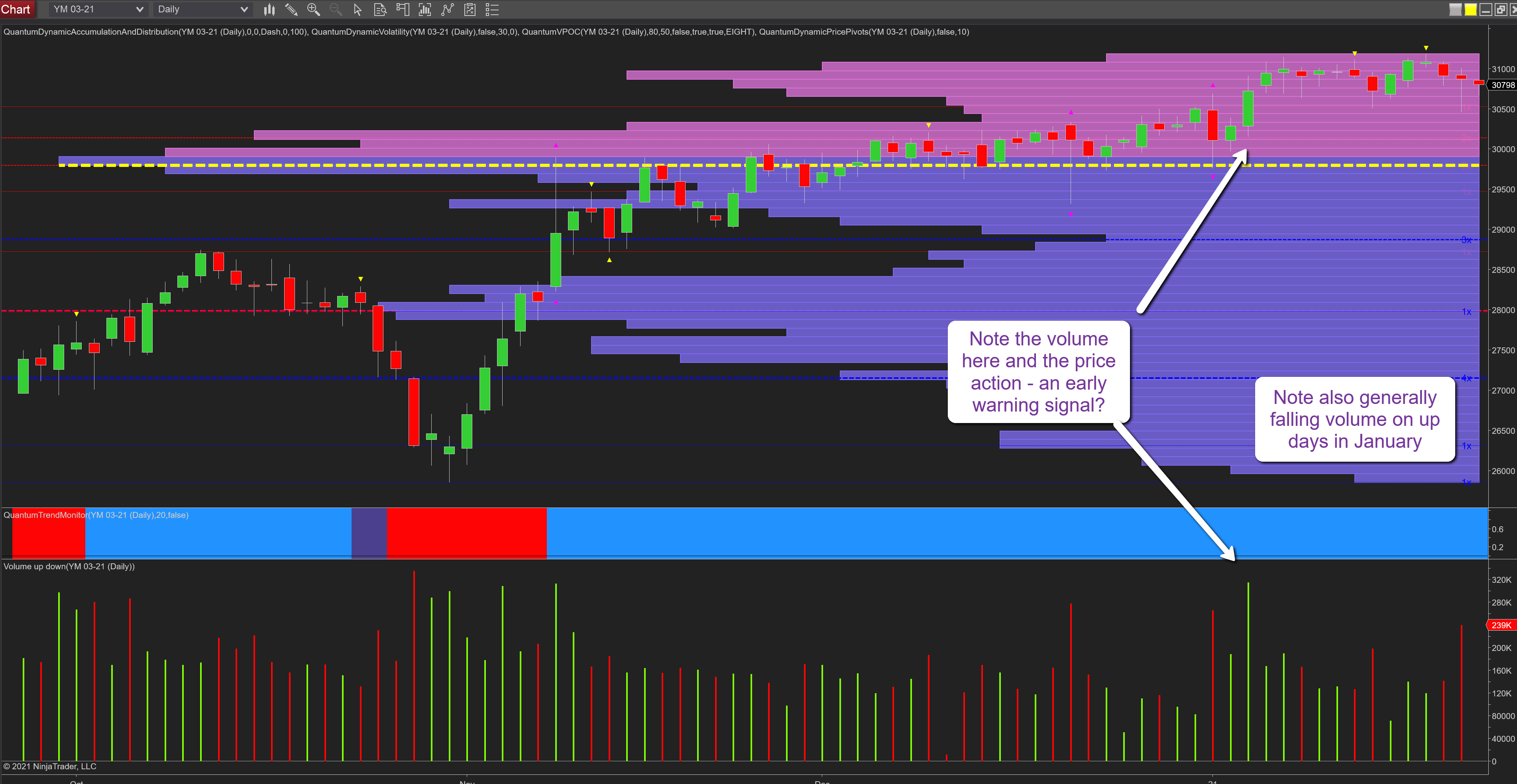 With the new President of the United States now firmly ensconced in the White House and the election dust settles, it's interesting to see how the major US markets are reacting, whilst remembering the pandemic is the dominant factor from a global risk perspective. Moreover, as we have seen over the last year, divergence is also commonplace across the three principles US indices with the NQ often moving in one direction, whilst the YM and ES move in opposition. Yesterday, however, was one of unity from the perspective of an intraday recovery which saw all three sell off sharply at the start of the session only to recover strongly and all on excellent volume as shown on the daily chart for the YM Emini with the NQ even closing higher than the open as tech stocks continue to buoy the Nasdaq 100. However, if we consider the chart for the YM Emini more closely, the same cannot be said for the DOW which is flashing some worrying signals of a weakening in risk appetite.
Perhaps the most worrying signal was that of the 6th January where an injection of volume was delivered but which did not translate into a significant price move. This is a classic example of Wyckoff's third law in action, in other words, effort, and result. Here we have ultrahigh volume and as such we should expect to see this reflected in a widespread up candle, yet the spread or range is comparable to other similar size candles that moved with half this volume. Hence this is a clear anomaly and one which deserves our attention. The analogy here is of driving a car up a steep icy mountain slope, as more pressure is applied to the gas, the more the wheels spin until forward motion comes to a stop. It is the same here, with the buyers struggling against heavy selling from the market makers who are selling into weakness. Next, if we compare the volumes of January on the up candles ( this one excepted) volume is generally declining under the up candles but with the volume on down candles generally increasing. In addition and added to this, the spreads are also starting to narrow on any up days. All of this tends to point to a market that is both weak and fragile and now struggling to maintain the longer-term bullish trend.
Disclaimer: Futures, stocks, and spot currency trading have large potential rewards, but also large potential risk. You must be aware of the risks and be willing to accept them in order to invest in ...
more