Is Anyone Willing To Call The Top Of The Everything Bubble?
Until this mass delusion and psychosis breaks by whatever means-- financial crash, rebellion against all the BS and return to simple community, we are only going to see digital currency, stocks, and pretty much everything go up as tens of trillions of concocted dollars try to find some asset to ride.
This will (continue to) drive the stock market, gold, cybercurrency, land, everything to unsustainable and giddy heights. I no longer think a Bear market is even possible. Just soaring "valuations" based on funny money and an unpredictable crash at some point in the future WAY longer than it ever should be if we had a sane world."
Well said, Zeus. It is now irrational to expect markets to ever reconnect with reality. That said, if you glance at the charts below, this is about as a good a time as any for the bubble to burst. Recall that bubbles don't need a specific trigger-event to pop, they simply stop going up.
Regression to trend: insane extreme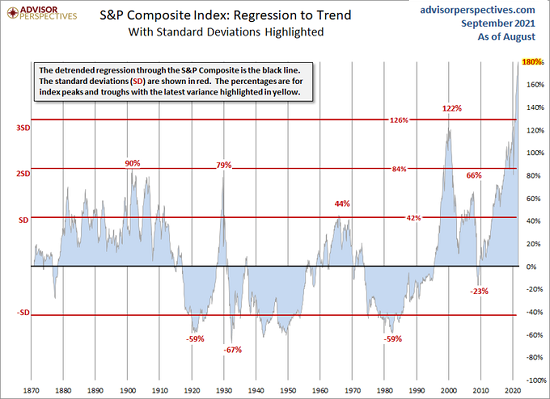 S&P 500 stocks over 10 times annual sales: insane extreme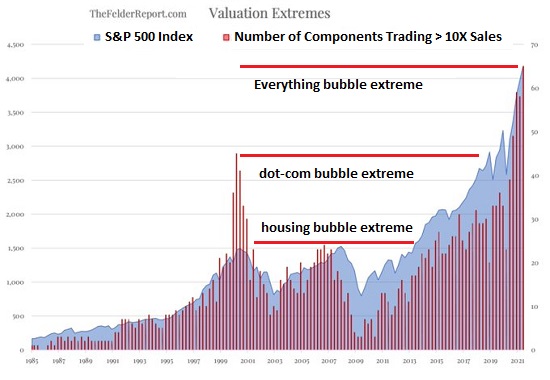 S&P 500 Everything Bubble compared to bubbles #1 and #2: insane extreme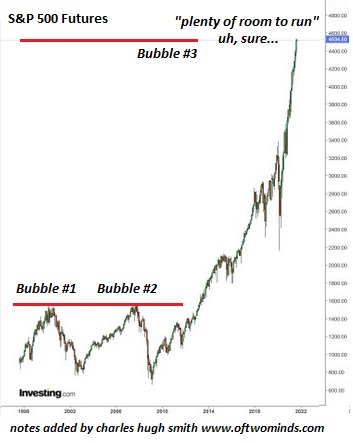 S&P 500 stocks above their 200-day moving average: insane extreme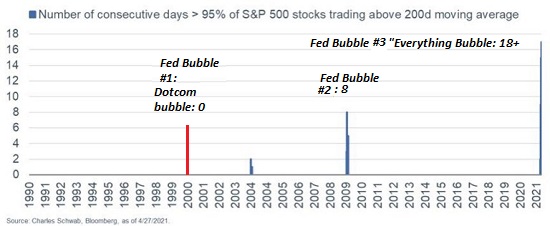 Billionaire wealth increasing in the Everything Bubble: insane extreme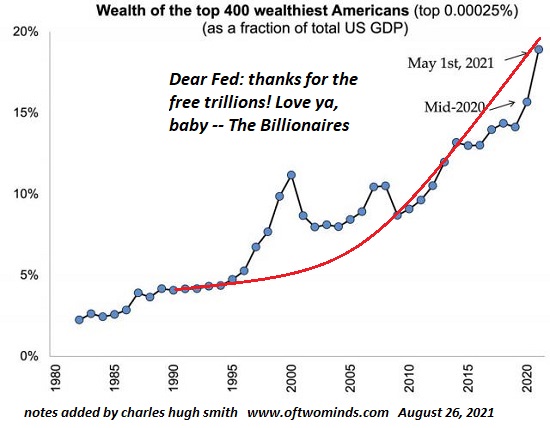 Are there any limits on irrationality? Apparently not. But there are still limits in the real world and central bank liquidity is distorting the real world, not just the imaginary world.
At the grave risk of twisting in the wind as the S&P 500 goes to 5,000, 10,000 and 100,000, let's call September 2021 the top of the Everything Bubble. Can extremes become too extreme to continue higher? We're about to find out.