Investor Focused Market Analysis
The Fear Index & Big Trend Analysis
The VIX index has been trading at low levels for a few years. This suggests that fear is low, complacency is high, and that SP500 is becoming vulnerable to a stock market correction.
In the chart below, I have placed the VIX index above the stocks trading above the 200 day moving average. As the number of stocks trading above the 200 day moving average falls it's telling us that fewer stocks are moving up in value while the broad market climbs. This is bearish.
This provides a great visual of how falling markets correlate with investor fears. While overall market breadth remains strong, a change in the VIX often provides an early warning sign of potential danger.
"When The VIX Is Low Its Time to Go, When The VIX Is High Its Time To Buy"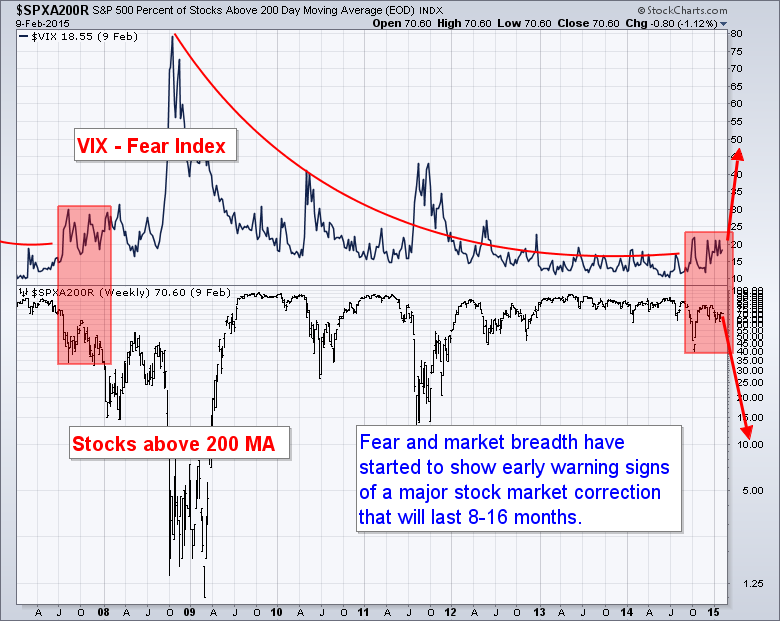 Stock Market Rises with Fewer Stocks – RED FLAG
Since mid 2014 the US stock market has become move volatile. Fewer stocks participating in the markets move up. This can be seen by comparing the percent of stocks trading above their 200 day moving average and the S&P 500 index.
When a stock market stalls, which is what it appears to be doing, the movement is comparable to that of how an aircraft stalls. It slowly continues to rise, things become choppy/unstable, then it drops and picks up speed trying to regain stability and control.
Once the stock market or an aircraft come to a complete stall they both end with a violent drop. While I am not calling a top yet, understand each month we are getting closer.
An analyst and trader I respect talked about how the Dow Jones is flat for the the year, yet investors think big profits are bing made. But in reality we have not seen real gains and the broad market expand in months. More investors are bullish now than we have almost ever seen according to Investors Intelligence Survey with a whopping 57% of investors bullish on stocks.
The CEO of Ameritrade said that almost all of their 6 million traders/investor account are completely invested in stocks, and are leveraged using margin also. This is the ultimate contrarian warning sign of a bear market should begin over the next few months.
Disclaimer: Join My Free Newsletter at more