Investor Focal Points To Start 2021
Equity market returns proved quite strong in the years that followed 1982. So if we forgo "short-termism" i.e. January-February 2021, and focus on 2021 as a whole, the market should produce a good return-environment for investors/traders. History is not a guarantee of future returns, but it helps us to assess the probabilities. If the probabilities don't play out according to all the many forms of historic data we study week-in-and-week-out, there is not much more an investor can ask of himself/herself. That is just the way the ball bounces, even if ever so infrequently.
Research Report Insight #4
Not every major firm analyzes the economic outlook, post a second relief package, the same way. Nonetheless, we may see additional revised outlook from other firms in early 2021. For now, we aim to compare the consensus analysts' estimates with Goldman's, and showing that Goldman's forecast for 2021Q1 growth is now meaningfully above consensus expectations of +2.5 percent. For what it's worth, J.P. Morgan's team also hiked its GDP estimate to 0.5% from a -0.1% contraction in the Q1 2021 which isn't yet reflected in the chart below.

Goldman expects substantially faster sequential growth than consensus in 2021Q2–Q4. As a result, Goldman's GDP forecast for 2021 as a whole is now 1.9% above consensus on a full-year basis (+5.8% vs. +3.9%) and 2.1pp above consensus on a Q4/Q4 basis (+5.6%vs. +3.5%).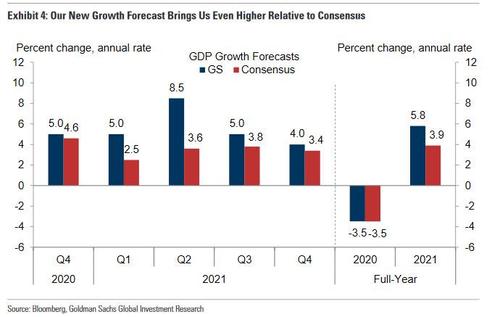 I'm of the opinion that Goldman Sachs is closer to the probable GDP growth that we could see in 2021 than other firms. I'm also of the opinion that most GDP models will prove cumbersome given the unique circumstances attached to the current recovery cycle. There is very little history to draw upon with respect to a pandemic, self-induced economic recession that quickly reverses on the heels of fiscal and monetary policy implementation and to the degree which has never taken place in the past. As such, Finom Group (for who I am employed) recently offered its outlook for 2021 as follows:
"With that said, the official price target established for the 2021 S&P 500, from Finom Group, is 4,325. We have modeled for $182 in 2021 EPS, above the consensus analysts' estimate, as we believe the street has not fully discounted that which they've not seen before, including how global trade partners might respond to a more amicable U.S. Administration after 4 years of de-globalization efforts. We also believe, barring an exogenous global event, Finom Group's above consensus estimate may prove too low should the tailwinds from a Service sector rebound build momentum in the back half of the year that produces nirvana-like economic conditions."
Research Report Insight #5
Pending home sales slightly decreased by 2.6% in November from the prior month, the third consecutive month of decline. All regions experienced month-over-month declines.
Nationally, contract signings jumped 16.4% from one year ago with all regions reaching double-digit year-over-year increases.
The Pending Home Sales Index hit 125.7, an all-time high for November.
Disclaimer: The risk of loss in stock, stock/options, futures, futures/options, and forex trading is substantial, and site visitors and subscribers should consider whether trading these markets ...
more