Inflation And Broken Windows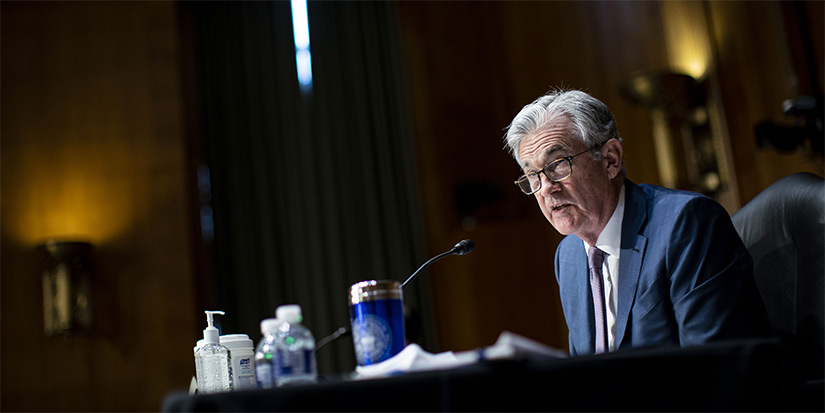 Gripping Hand Update
As I have been repeating all month (see here, here, and here), anything I say about the economy or markets is subject to the coronavirus "Gripping Hand." It greatly constrains the available options. Other possibilities open up if we manage to get and keep the virus under control.
Bluntly, conclusion first: You cannot predict inflation or deflation until you understand the extent of the virus this summer. You get to radically different outcomes, which I will discuss at the end.
The good news is that US vaccinations are accelerating. States and the federal government are working out bugs in the process. Supply constraints are easing a bit. It is still going much too slowly, but was always going to be an ordeal. The single-dose Johnson & Johnson (JNJ) vaccine should be approved soon and will help. With luck, everyone who wants to be vaccinated should have the chance by this summer.
Let's look at a few charts. First of all, hospitalizations are way down. That is very good news.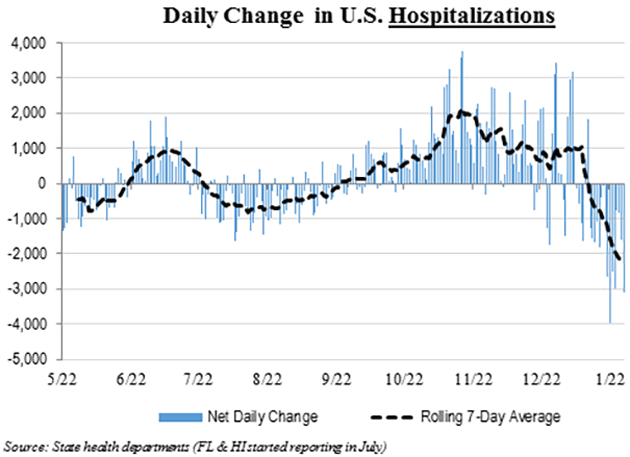 Source: Justin Stebbing
Ditto for ICU patients: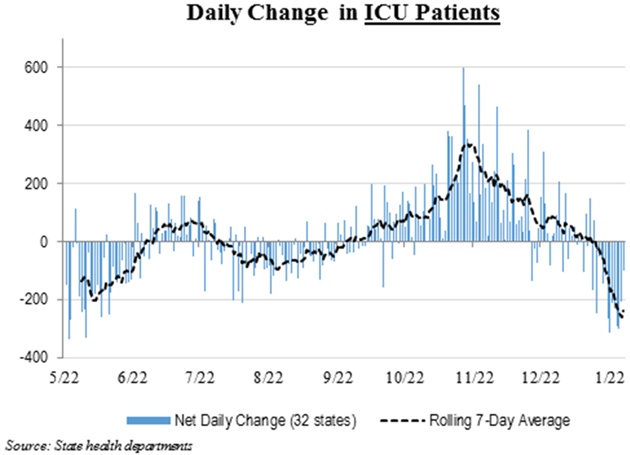 Source: Justin Stebbing
The testing positivity rate and number of new cases are dropping, too. Well over 27 million people in the US have had at least one vaccine dose, with about 1.3 million more doses administered each day.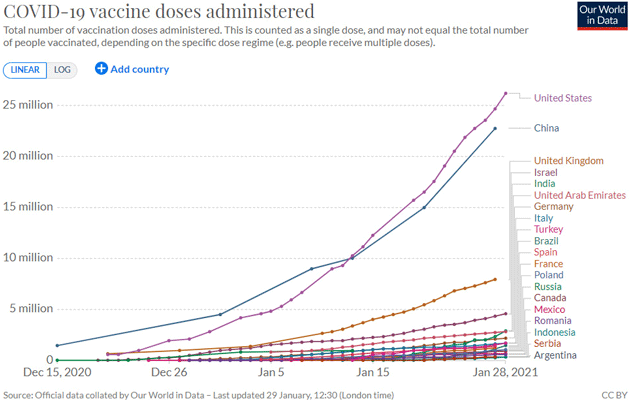 Source: Our World in Data
Here is another chart comparing the responses of various countries. We must remember that we have to vaccinate the world to keep a new strain/variant from popping out and starting this process all over again.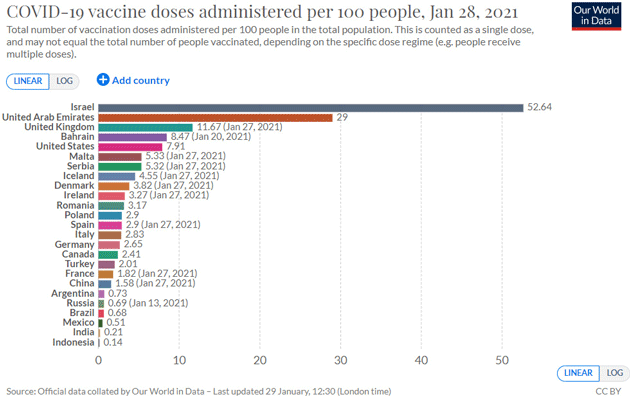 Source: Our World in Data
The next question is whether that will be enough. The winter surge is reversing, but the B117 and other more infectious variants could send case numbers and hospitalizations higher again, and possibly a lot higher. And even with recent improvement, the numbers are still worse than they were at last summer's peak.
Back with a Vengeance
Thinking positively, imagine the US and other major economies vaccinate enough people in the next few months to let semi-normal life resume. We'll still be cautious, but the generalized fear subsides enough to let us circulate again. Restaurants, hotels, airlines, and other hard-hit industries start to get back on their feet. Then what?
Scenarios like that usually point to inflation. Pent-up demand will make people spend some of the extra savings they accumulated (often via fiscal aid programs) in the last year. Possible? Yes, but I don't expect it. I think this experience is scarring many people in the same way the Great Depression scarred our parents, giving their generation a permanently thrifty attitude. We'll see.
But inflation can come from other directions, too. My friend Louis Gave recently described the larger forces at play.
I think inflation will come back with a vengeance. One of the key deflationary forces in the past three decades was China. I wrote a book about that in 2005; I was a deflationist then, as my belief was that every company in the world would focus on what they can do best and outsource everything else to China at lower costs. But now, we're in a new world, a world that I outlined in my last book, Clash of Empires, where supply chains are broken up along the lines of separate empires. Let me give you a simple example: Over the past two years, the US has done everything it could to kill Huawei. It's done so by cutting off the semiconductor supply chain to Huawei. The consequence is that every Chinese company today is worried about being the next Huawei, not just in the tech space, but in every industry. Until recently, price and quality were the most important considerations in any corporate supply chain.
Now we have moved to a world where safety of delivery matters most, even if the cost is higher. This is a dramatic paradigm shift… It adds up to a huge hit to productivity. Productivity is under attack from everywhere, from regulation, from ESG investors, and now it's also under attack from security considerations. This would only not be inflationary if on the other side central banks were acting with restraint. But of course we know that central banks are printing money like never before.
Disclaimer:The Mauldin Economics website, Yield Shark, Thoughts from the Frontline, Patrick Cox's Tech Digest, Outside the Box, Over My Shoulder, World Money Analyst, Street Freak, Just One ...
more