Industrial Fading
It is time to start paying attention to PMI's again, some of them. There are those like the ISM's Manufacturing Index which remains off in a world of its own. The version of the goods economy suggested by this one index is very different than almost every other. It skyrocketed in late summer last year way out of line (highest in more than a decade) with any other economic account. For that reason alone, it has been widely cited for this "booming" US economy.
Other's showed the same trajectory if not anywhere near that level of enthusiasm. But while the ISM remains at lofty levels, these alternates are starting to move back down again. The Federal Reserve Bank of New York's General Business Diffusion Index, otherwise known as the Empire Fed, registered its lowest reading this month since before 2017's busy tropical season for the central bank's Second District.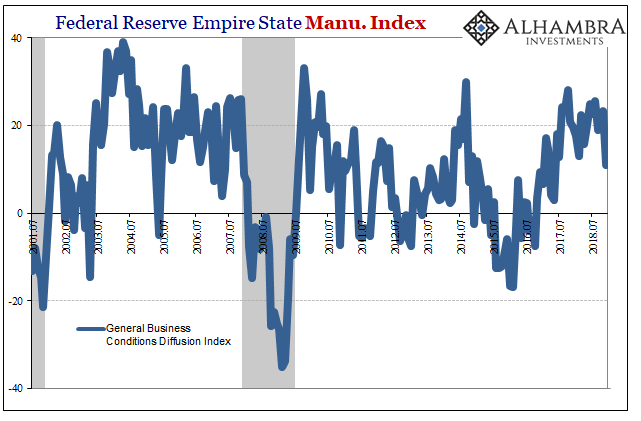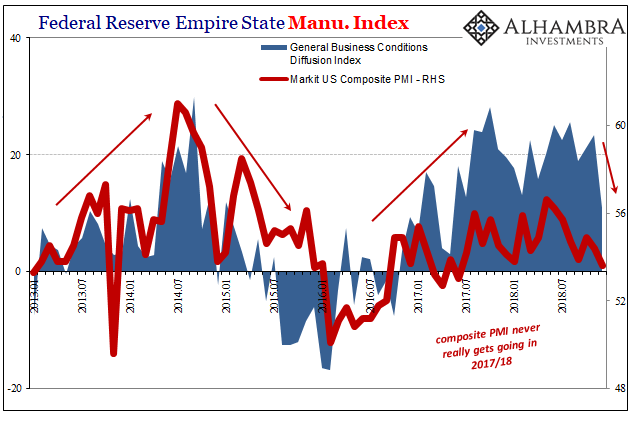 Like the ISM, the Empire index suggested manufacturing was experiencing a revival that the rest of the economy wasn't. But if those were of the best possible case in late 2017 and early 2018, the current condition and more so indicated direction at least for the Second District can no longer be classified that way.
There is much more corroboration of this view than the ISM's continued unearthly persistence. The Federal Reserve also maintains a national diffusion index (actually three, of different time intervals) as part of its estimates for Industrial Production. Its measure of sentiment more closely resembles (on average) that of the Empire Fed's.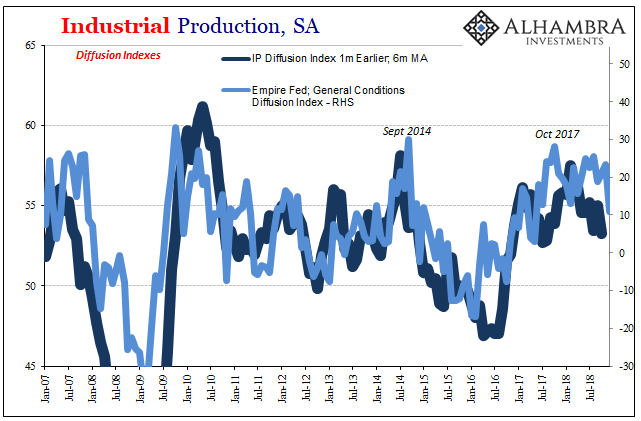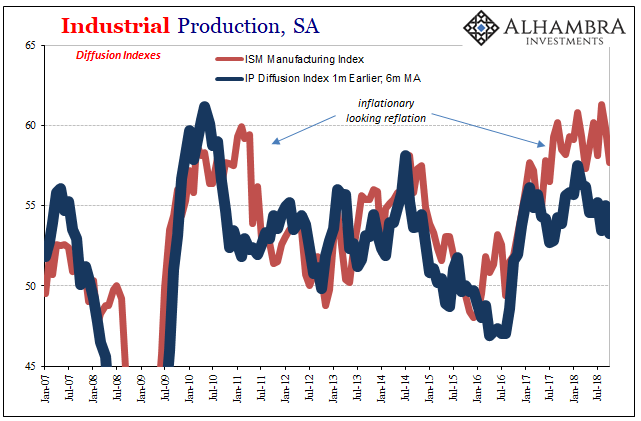 That's the bad news. The economy may or may not have been booming overall, but in the past few months, the condition seems to have rolled back.
The IP figures themselves already propose that prospect, meaning consistency from sentiment to estimated activity. US industry has been pulled in different directions by the curious tug-of-war between crude oil and automobiles. The mining sector particularly oil production has been actually booming; the vehicle sector not so much.
Disclaimer: All data and information provided on this site is strictly the author's opinion and does not constitute any financial, legal or other type of advice. GradMoney, nor Jennifer N. ...
more