In The Year 2025 If Fiat Currency Can Survive
There are a few ways to deal with debt such as sustained economic growth which is unlikely given that we are in a recession. A hefty dose of austerity might help but given the current hardship that people are suffering I doubt if there is the political will to propose such a policy. A period of accelerating inflation could reduce the impact of this debt, however, attempts to ignite inflation by the authorities has not materialized. To summarize we are locked into a cycle of government spending and central bank money printing which will continue until the 'Law of Diminishing Returns' kicks in and at that point all confidence in our leaders and our financial system will dissipate into insignificance.
The US Dollar will be tested and may well lose its status as the worlds reserve currency; however, the other currencies are not in great shape and could suffer a similar plight. Where does this leave us one ponders, back to bartering and exchanging goods and services or will we see the emergence of a new asset backed currency. A new currency could take the form of paper exchangeable for a fixed amount of hard assets which could include the precious metals and maybe property and land.
It is hard to imagine just how this would be managed but without a solid backing a new medium of exchange would lack credibility.
A solution that I believe could work would a gold backed currency, or a gold backed type of Bitcoin. I am biased as I am a gold bug at heart and see gold as a segue into a more stable, disciplined financial system that the world could utilize with confidence.
If we now compare the US Dollar to gold in terms of their performance over the last twelve months, we can see that the value of gold has increased by around 30% when measured against the Dollar. This could be an early indication of what is to come as the US Dollar loses its buying power and gold emerges as a candidate to fill that vacuum.
US Dollar and Gold Comparison Chart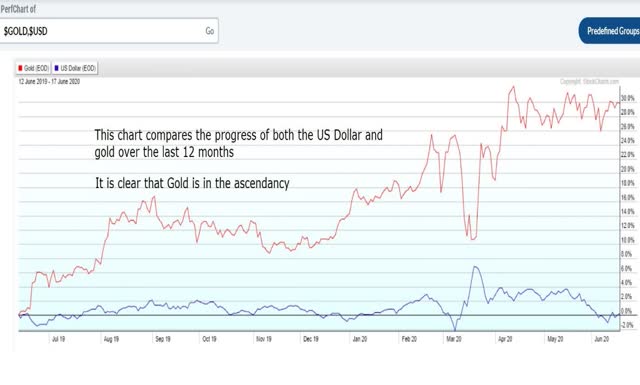 Disclaimer: Gold-prices.biz makes no guarantee or warranty on the accuracy or completeness of the data provided. Nothing contained herein is intended or ...
more