In Rural America, Resentment Over COVID-19 Shutdowns Is Colliding With Rising Case Numbers
These factors, compounded by caring for a population that is comparatively older, sicker and poorer, leave rural communities extraordinarily vulnerable as cases continue to rise.
How to turn the tide of rising cases
Intervening now can slow the rate of rise of COVID-19 cases in rural hot spots while simultaneously building a more robust long-term response.
To be most effective, each rural area's unique demographics, economies and perspectives should be considered as policies are developed.
For example, allowing rural communities to exert control over their reopening and closing decisions based on local disease transmission dynamics would allow them to better balance disease mitigation with economic impacts. Some states allow rural communities with few or no cases to apply for waivers from statewide public health orders. These applications generally look at local infection data, containment measures and health care capacity.
Changing the nature of the conversation around COVID-19 in the community can also help in implementing simple, effective measures like mask-wearing. When communications are personal, they may be more accepted. For example, a public service message could remind people that wearing a mask keeps your favorite business open and your grandmother healthy. Framing levels of risk in understandable terms for different types of activities can also help, such as how to exercise or socialize safely. Working with trusted local messengers, such as business owners and faith leaders, can help convey evidence-based information.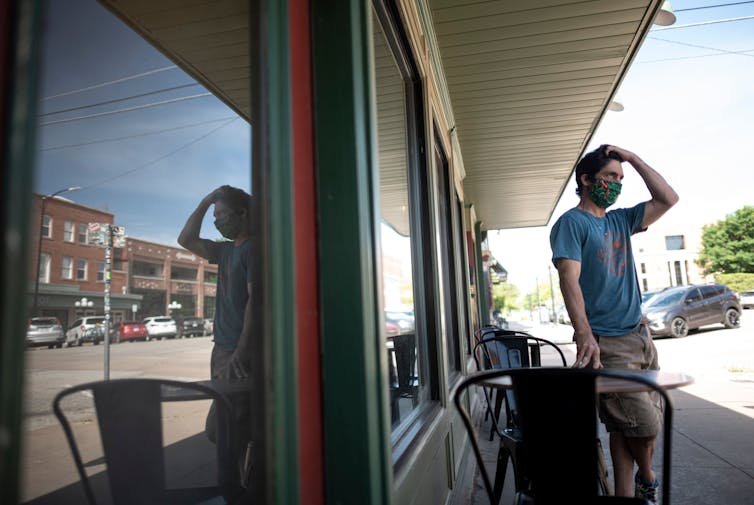 Stillwater, Oklahoma, pulled back on requiring people to wear masks in stores last spring after officials said some customers threatened store employees. Johannes Eisele/AFP via Getty
Planning is also essential. Communities need to prepare so they can get supplies, testing and treatment when needed; protect the most vulnerable community members; educate the community; and support people in isolation and quarantine. A rural regional approach to testing and contact tracing, sharing supplies and swapping staff could help bridge some of the gaps. Getting test results closer to home could decrease wait times and courier costs. Sharing resources across health care organizations could also minimize the burden of response.
This article is republished from The Conversation under a Creative Commons license.