In Rural America, Resentment Over COVID-19 Shutdowns Is Colliding With Rising Case Numbers
Why rural cases are on the rise
Several factors have contributed to the rise in rural case numbers.
The politicization of the pandemic – and of mask-wearing – has hampered both public health efforts and collaboration among businesses, community organizations and health care entities. Political tensions have given rise to misinformation, reinforced on social media, that can be difficult to turn around. If people aren't taking protective measures, when COVID-19 does come in, it can easily and quickly spread.
In some communities, the resumption of small-town activities, such as school, church and sports events, has led to more infections. Experts have pointed to social gatherings, including the nearly 500,000-strong Sturgis motorcycle rally in South Dakota in August, as sources of the recent COVID-19 surge in the upper Midwest.
Working from home is also nearly impossible for many rural jobs. Paid sick leave may also be difficult to come by, prompting some people to choose between working while sick and isolating at home without pay. Meat and poultry processing plants and other farm industries often employ immigrants whose living and commuting realities can make social distancing difficult. Many rural places are heavily dependent on recreation and service industries. When visitors arrive from out of town, they may bring COVID-19 with them.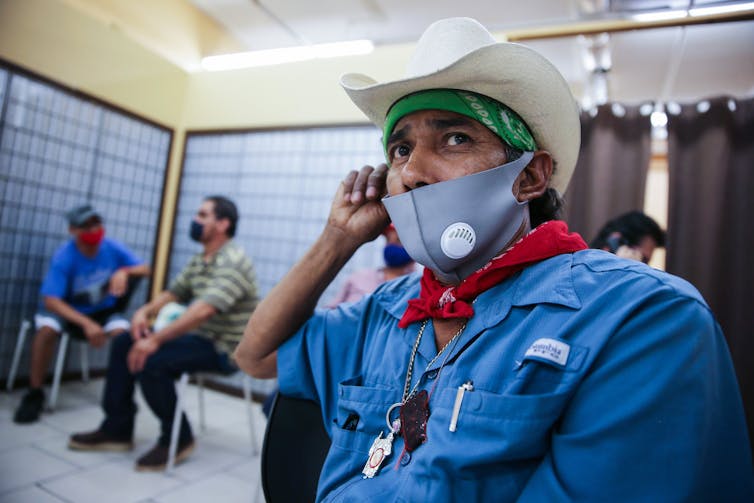 Unemployed workers wait to fill out job applications in a region hit hard by the COVID-19 pandemic. Mario Tama/Getty Images
Local health care is already short-supplied
Pinpointing COVID-19 outbreaks early and stopping the spread can also be harder in rural areas.
Funding for rural public health departments has long been anemic, crippling their ability to test, share data and conduct contact tracing. Limited resources also constrain education and outreach efforts.
Many rural hospitals and primary care practices entered the pandemic in financial trouble and chronically short-staffed. They reside squarely at the end of the supply chain, making acquisition of needed personal protective equipment and testing supplies difficult. Rural hospitals have fewer ICU beds per capita than their urban counterparts. Lack of consistent broadband coverage can make access to telehealth difficult, as well.
This article is republished from The Conversation under a Creative Commons license.