Impact On Stocks: QT, Shutdown & EPS Estimates
Mistaken Analysis
The $50 billion per month unwind is $20 billion in mortgage-backed securities and $30 billion in Treasuries. The chart below was created by Morgan Stanley's quant team.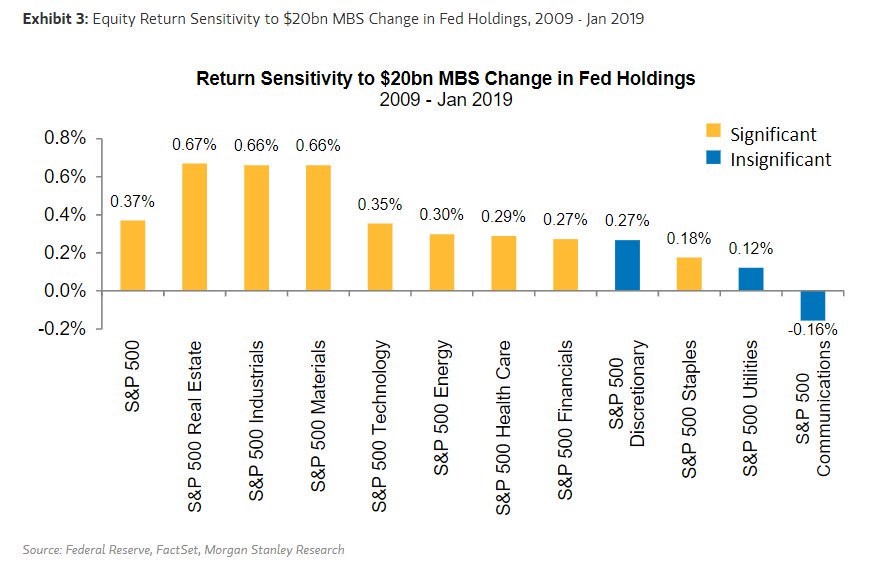 Source: Morgan Stanley
It shows that every $20 billion decline in the Fed's mortgage-backed securities holdings hurts the S&P 500 by 0.37%. The team also concluded the decline in the Treasury holdings has no effect on stocks. We think this is faulty analysis.
The math is correct, but in our view could be mistaking correlation with causation. Just because stocks reacted a certain way during QE and the unwind doesn't give us certainty that the change affects stocks. It's difficult to conceptualize what a 0.37% decline is after you consider all the other variables affecting markets, and what the market would do anyway based on fundamentals. Either way, we would not solely rely on this sensitivity analysis to forecast stock returns during the era of quantitative tightening.
Stocks Ignore The Government Shutdown
This government shutdown, which is the about to become the longest in US history, is also unique in that stocks have done very well during it. As you can see from the table below, stocks have had the best performance during a government shutdown ever in the past couple of weeks.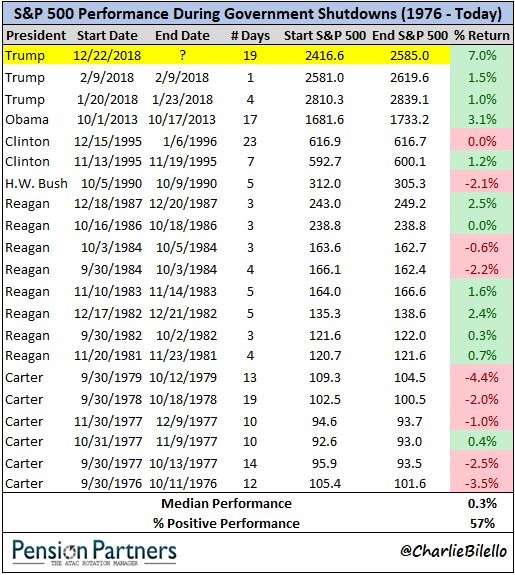 Source: Pension Partners
It's wrong to suggest stocks are rallying because of the shutdown. It's simply that stocks were oversold when the shutdown started, and traders are ignoring it. If anything, the shutdown could be negative for the economy.
JP Morgan stated the government shutdown hurts GDP growth by between 0.1% and 0.2% every week. Because of this, JP Morgan lowered its Q1 2019 GDP growth estimate from 2.25% to 2%. That only reflects the first 2 weeks of the shutdown. The longer it lasts, the bigger the negative impact.
Decline In Global Earnings Estimates
With the global slowdown impacting countries such as Germany, Japan, and China, it's no surprise analysts are lowering their earnings estimates. The number of analysts lowering their estimates is impressive though. As you can see from the Bloomberg chart below, analysts' profit cuts are exceeding upgrades by the most since 2009.
Disclaimer: Please familiarize yourself with our full disclaimer here.