Impact On Stocks: QT, Shutdown & EPS Estimates
Opinions on the Fed's balance sheet and QE have a huge variance. Some investors blame the entire bull market on QE even though stocks rose after QE 3 ended. These investors tend to think the Fed will go through with QE 4 at the first sign of trouble in the economy. On the other side, some investors think QE is an asset swap that has little effect on the economy or stocks. We are discussing the latest news on the balance sheet because the stock market has been reacting to Powell's statements on it in the past few weeks.
Specifically, stocks fell in December when Powell stated the shrinkage was on "autopilot" mode. It's possible some traders thought hawkish balance sheet talk meant hawkish talk on rates. It's also possible traders were fearful Powell wouldn't react to changes in the economy. The term autopilot implies the person in charge isn't paying attention.
After the stock market fell in December, Powell softened his remarks in early January stating, "We wouldn't hesitate to change it and that would include the balance sheet. We're hearing a lot from different groups of people about the role the balance sheet normalization may be playing in the market." The stock market didn't like autopilot, so Powell changed his language.
Now let's review Powell's latest statements on January 10th. Powell stated the balance sheet "will be substantially smaller than it is now." As you can see from the chart below, the balance sheet has shrunken $402 billion to about $4 trillion.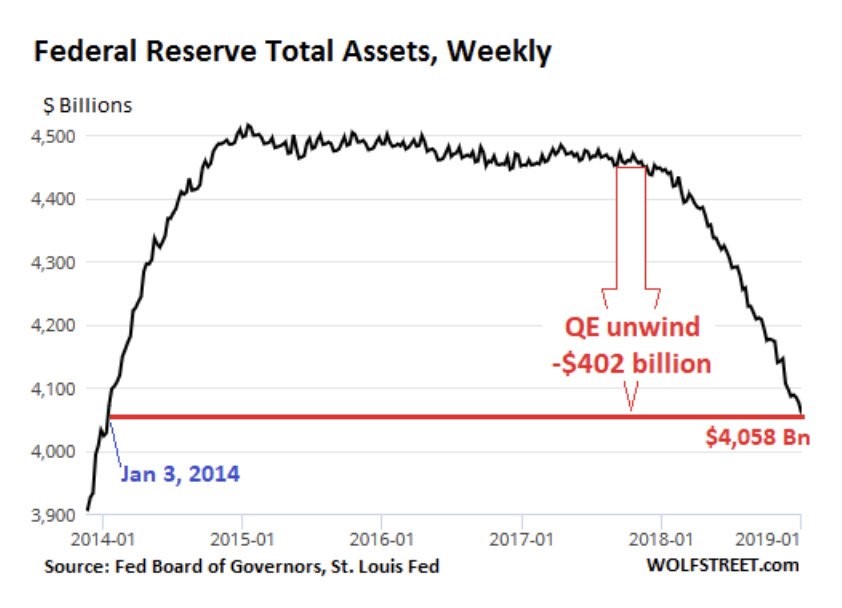 Source: WolfStreet.com
The Fed is still on the path of reducing the balance sheet by $50 billion per month. Powell also stated the balance sheet will be "nowhere near where it was before." This means it will be nowhere near about $900 billion since that's where it was before QE 1. Being somewhere between $4 trillion and $900 billion is a very wide range. The discussion about when the balance reduction will end will likely gain traction in 2020 which is when the balance sheet will decline below $3 trillion. This assumes there is at most a slowdown in 2019, and not a recession, which could potentially cause the Fed to shift its stance.
Disclaimer: Please familiarize yourself with our full disclaimer here.