If You've Lost The ISM
These transition periods are often just this sort of whirlwind. One day the economy looks awful, the next impervious to any downside. Today, it has been the latter with the BLS providing the warm comfort of headline payrolls. For now, it won't matter how hollow.
Yesterday, completely different story. Apple got it started downhill and the ISM pushed it off the cliff. The tech giant's CEO admitted the global economy is in a world of trouble, EM's and China first. Tim Cook said his company did not "foresee" how bad it was getting and how quickly, if only because his company was taking its cues from Jay Powell rather than the shadows.
Despite Apple's clear prestige and place in the hierarchy of bellwethers, the ISM may have been the more damaging announcement. For several years it has been the real high flyer. The trade group's manufacturing PMI has been pretty much the only figure consistent with the US unemployment rate.
According to it, domestic manufacturing and therefore the US economy has rarely ever been better. Or, it was.
For December 2018, the ISM's index plunged from 59.3 to 54.1. The latest monthly estimate isn't by itself much concern, it's the change that is. The one thing looking great suddenly adds to the mountain of doubt about where things are really heading, especially when some of the forward-looking subcomponents like New Orders just collapsed last month (from 62.1 in November to 51.1 in December).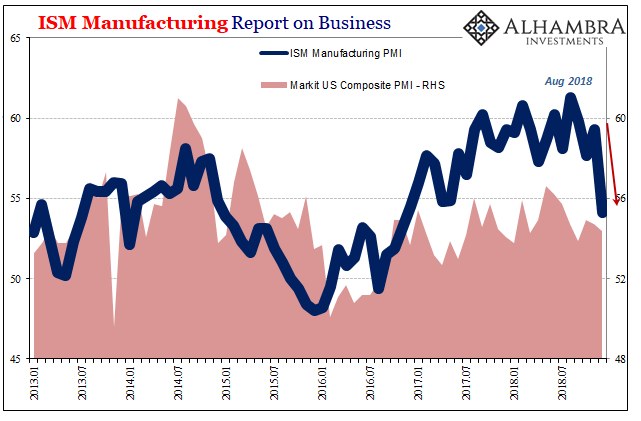 Yesterday, markets could ill-afford to confront the possible loss of one of the very few suggesting boom. When it was above 60 as last summer, it was much easier to cling to the "strong" economy. Fifty-four doesn't erase that completely, but it does make everyone take a step back. Is this just a one-month temporary aberration, or is the downturn really happening?
According to several other PMI's and like indications it is the latter. Since they were released today, they aren't grabbing near the attention.
Disclaimer: All data and information provided on this site is strictly the author's opinion and does not constitute any financial, legal or other type of advice. GradMoney, nor Jennifer N. ...
more