If Congress Can't Pass More Stimulus, Here Is What Else The Fed Can Do
Now that nothing short of a miracle is needed to pass a new fiscal stimulus deal before the election - with Democrats and Republicans unable to reach a compromise deal even as Trump appears to have broken away from Senate Democrats and is siding with Nancy Pelosi in demanding a "big number" - attention is turning to life after the election, where bulls point to a Blue Sweep as unleashing as much as $7 trillion in fiscal spending over the next few years, an amount which Goldman believes will be more than enough to offset the adverse impact on stocks from higher corporate and capital gains taxes.
But what if there is no "blue wave", and we get four years of gridlock instead which can happen with either with another four years of president Trump and a Democratic Congress, or with a Biden presidency where GOP keeps the Senate, the two adverse cases recently modeled by Bank of America, which termed these the "Stagnation" and "Deflation" scenarios, respectively?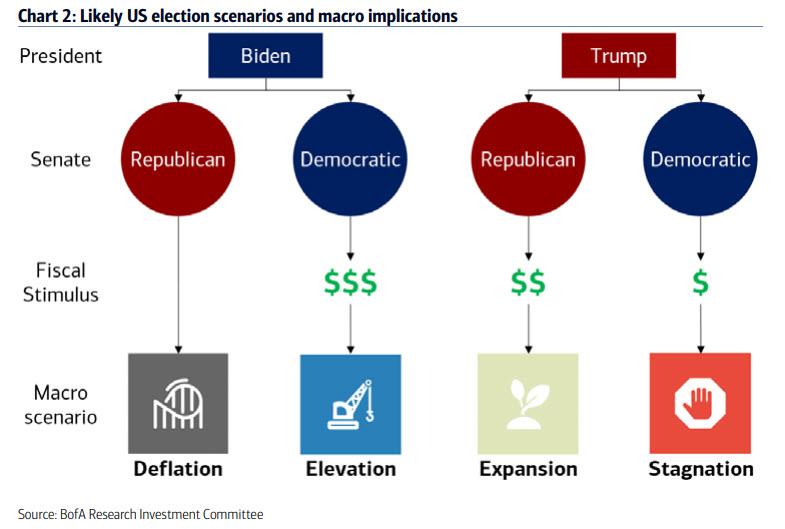 That said, even a Blue Wave scenario means that a new fiscal deal won't be signed until at least early 2021, which is a major risk for the US economy, where the recent rise in covid cases could translate to a double-dip in the economy as we enter the winter - especially once temperatures drop below 40 and outdoor dining shutters, hitting GDP,which would then raise the old fallback question: what else the Fed can do to stimulate the economy?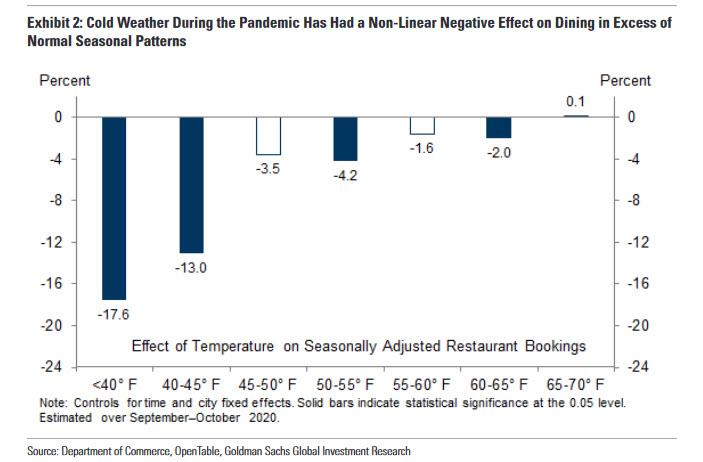 That's also the question that Goldman's chief economist Jan Hatzius posed overnight in a research report in which he explains that Fed officials have recently discussed three possible options.
First, the FOMC could adjust the composition or pace of asset purchases. Several Fed officials have expressed at least lukewarm support for this option, while a couple have been skeptical.
Second, the FOMC could extend or adjust its new credit market facilities. Goldman expects Fed and Treasury officials to extend the facilities even if the economy performs well, but Hatzius sees little room for doing more with them.
Third, the Fed and Treasury could ease terms on the Main Street Lending Program to aid small businesses. While some Fed officials are sympathetic to this, but Treasury support appears doubtful.
Disclaimer: Copyright ©2009-2020 ZeroHedge.com/ABC Media, LTD; All Rights Reserved. Zero Hedge is intended for Mature Audiences. Familiarize yourself with our legal and use policies every ...
more