IBM Jumps On Guidance Boost Despite Revenue Slide, Massive Addbacks, Bizarre Tax Rate
IBM is back to its revenue declining, non-GAAP-EPS-beating-through-low-tax-gimmick ways.
With Wall Street expecting IBM to report (non-GAAP) EPS of $4.82 in Q4, the company "beat" by the tiniest of margins, reporting non-GAAP, adjusted EPS of $4.87, a 5% drop from last year.
So far so good, but as usual, there was a gaping difference between GAAP and non-GAAP, and in this case, it was more than double, with the company reporting a paltry $2.15 in GAAP EPS, more than 50% below the Non-GAAP number. Unfortunately for IBM, unlike last quarter when non-GAAP pre-tax and net income both posted modest increases even as their GAAP equivalents dropped, this quarter, both non-GAAP and GAAP pre-tax net Income declined Y/Y by -1% while non-GAAP Net Income dropped by 8% (GAAP Net Income was not meaningful).
(Click on image to enlarge)
How did IBM bridge the traditionally lower GAAP EPS number to the higher non-GAAP? Simple: here is the full breakdown.
(Click on image to enlarge)
More importantly, the EPS only beat because the company reverted back to its tax gimmick ways, as IBM's effective GAAP tax rate was 56% yet its non-GAAP EPS once again managed to tumble to only 12%, which while laughable was double the 6% effective non-GAAP - and lowest ever - tax rate in Q4 2017.
(Click on image to enlarge)
Meanwhile, IBM reported Q4 revenue of $21.8 billion, which was just better than the $21.7 billion expected...
(Click on image to enlarge)
... however, after three-quarters of top-line growth - which followed 22 consecutive quarters of declines - IBM's Q4 revenue once again dropped after a similar decline in Q3, sliding by 3.3% Y/Y in Q4, and reminding investors that for all its non-GAAP and tax fudges, IBM remains a melting ice cube.
(Click on image to enlarge)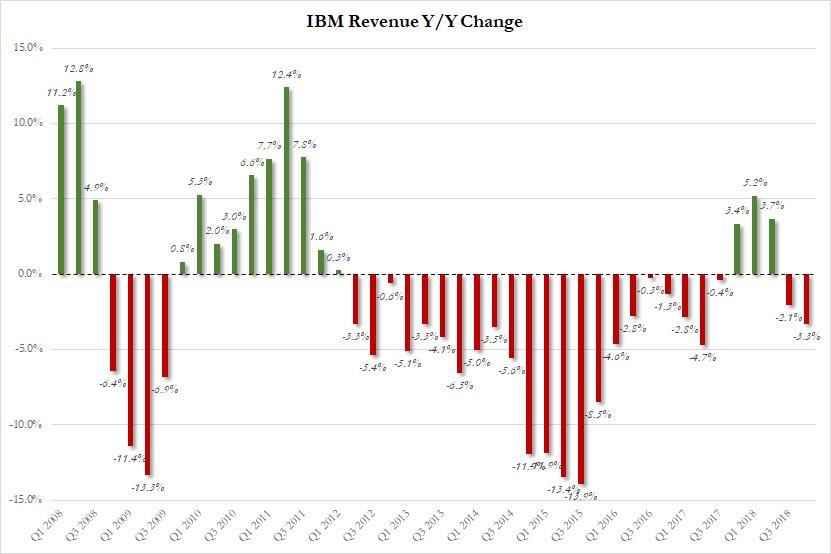 And yet despite this now traditionally accounting gimmickry and deteriorating top line, investors appeared to like the results for two simple reasons: the first, IBM's cloud revenue did not collapse:
Disclosure: Copyright ©2009-2018 ZeroHedge.com/ABC Media, LTD; All Rights Reserved. Zero Hedge is intended for Mature Audiences. Familiarize yourself with our legal and use policies every time ...
more