How To Profit From The Flood Of New Retail Investors
These new players are highly, and I mean highly, speculative; they are rolling the dice in a big way. Just look at what happened a couple of weeks ago with GameStop Corp. (NYSE: GME). It rocketed several thousand percent, and it's still trading for more than 10 times what it did a year ago.
(And, by the way, it's worth repeating: Don't go near GME.)
GameStop grabbed a lot of headlines, but these retail investors are having a much broader impact. By some estimates, their speculating has boosted the market cap of some of the smallest U.S. stocks by more than 30%.
Look at the iShares Russell 2000 ETF (NYSEArca: IWM) that tracks the massive U.S. small-cap segment. It was actually slightly lagging the SPDR S&P 500 ETF (NYSEArca: SPY) for most of the time since the crash, but IWM crossed above it in November and blew it out of the water.
This is happening at a time when America's small businesses have been under absolutely brutal pressure from COVID-19.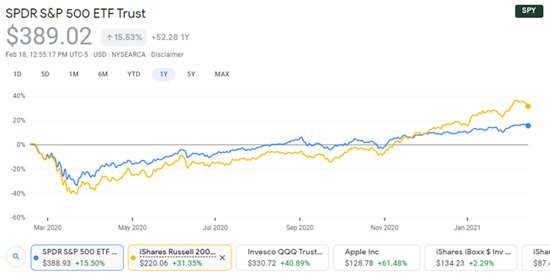 Mobile app investors are partially responsible for that performance. Their impact has been even heavier for the small- and micro-cap stocks you don't find on the Russell 2000.
And, like we've seen, when these investors coordinate, the effects can be… powerful. Powerful enough to bring some of Wall Street's most powerful hedge funds to their knees, anyway.
And with that much impact, you just know there's money to be made.
Here's How to Profit… for Much Less Risk
If you missed it, this week I named three stocks I think fit the bill for a potentially explosive short "Super Squeeze" situation: Bed Bath & Beyond Inc. (Nasdaq: BBBY), Utz Brands Inc. (NYSE: UTZ), and Weibo Corp. ADR (Nasdaq: WB). Definitely watch those; I'm often in touch with my Super Squeeze Profits followers to give specific instructions.
Disclaimer: Any performance results described herein are not based on actual trading of securities but are instead based on a hypothetical trading account which entered and exited the suggested ...
more