How The EUR/USD Affects Miners; Which ETF Will Suffer More?
It's all connected. The Eurozone's underperformance boosts the USD, thus placing pressure on gold and the ETFs. So, which ETFs will suffer most?
A large part of yesterday's free version of the analysis focused on the Eurozone's economic outlook and how it affects the precious metals. We'll eventually get to Europe again later in today's analysis, but let's first examine gold related ETFs, namely the GDX and GDXJ. How low can they go? That will depend on the general moves in the stock market.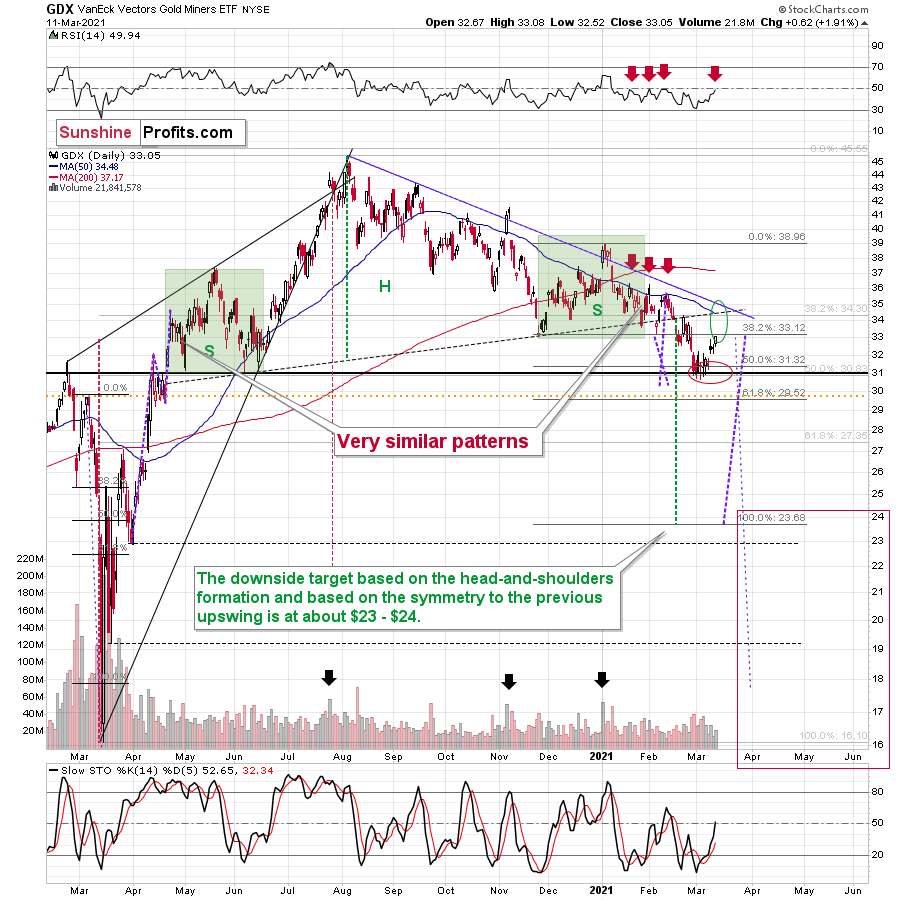 The GDX ETF didn't move to the strongest combination of nearby resistance levels, but it did flash a few bearish signs, anyway.
The resistance that it reached was notable as it moved to its November 2020 low. Consequently, "it makes sense" for the mining stocks to have topped here.
In yesterday's (Mar. 11) regular analysis, I wrote the following about the above chart:
Miners generally paused yesterday (Mar. 10), which is quite natural after a sharp daily rally. They closed the day slightly higher, but the RSI is not yet at 50 and the volume that accompanied yesterday's small move up was nothing to call home about. It was just a pause, and the preceding short-term move is now likely to continue.
Yesterday's volume was nothing to call home about, but the RSI moved to 49.94 – close enough to 50 to be viewed as a sell signal.
Moreover, please note that while spike-high volume would be a reversal indication, it's not required for a top to form. The recent small tops formed without high volume.
Consequently, it could be the case that the top in the mining stocks is in and that by selling GDX at $32.96 yesterday (March 11) we exited the long positions (and entered short ones) practically right at the top – a week after buying in the $30.80 - $31 area.
Before anyone asks, yes, miners were strong relative to gold yesterday, but it was practically the only thing that was positive about yesterday's session and the USDX's performance along with gold's weakness seem more important.
Please keep in mind that every now and then miners very briefly (!) fake their strength (or weakness) relative to gold right before the reversal. The 2016 rally started with a fake breakdown and fake underperformance of gold. So, while the continuous underperformance of miners (compared to gold) is very often bearish, a single day of strength or weakness might be a trap.
How low can the GDX ETF go? Our final downside target area ($15 – $24.5) is quite broad because a lot depends on what the general stock market will do. I'll be looking at gold for the key signs along with a few other factors (including the Gold Miners Bullish Percent Index) and determined the buying opportunity based on them – not necessarily based on the price of the GDX or GDXJ by itself.
Yes, this target is quite low, and thus might appear unrealistic, but let's consider the following:
Miners are slightly above their early-2020 high – just like gold.
Gold is likely to decline to its 2020 lows or so
General stock market might have just topped.
Considering all three above factors it's clear that a move to even the 2020 lows is not out of the question.
Disclaimer: All essays, research, and information found on the Website represent the analyses and opinions of Mr. Radomski and Sunshine Profits' associates only. As such, it may prove wrong ...
more