How Much Slack In The Labor Force?
The labor force participation rate is also worth reviewing because it helps measure slack in the labor market. The labor force participation rate increased 0.1% to 63.2% in January. That was important because it was the highest reading since September 2013. That increase occurred because the civilian population fell more than the labor force. The civilian non-institutional population over the age of 16 fell from 258,888,000 to 258,239,000.
(Click on image to enlarge)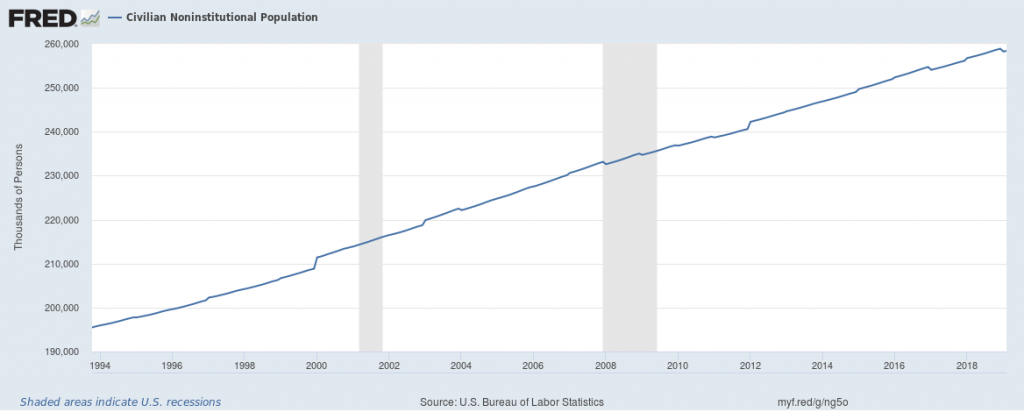 We aren't sure why the population calculation fell sequentially, but we can tell you in this expansion the population fell 4 times and every time the decline happened in January. In February, the population increased normally as it was 258,392,000. The participation rate was steady in February.
The labor force is the divisor in the labor force participation rate and the divided in the unemployment rate calculation. The labor force has fallen in the past 2 months. Since the civilian population rose 153,000, while the labor force fell 45,000, we know people didn't come off the sidelines and into the labor market in February. To be clear, the decline in the labor force wasn't massive as it fell almost 400,000 in August 2018. However, it's interesting now because the pool of available labor has been low and stable as you can see in the chart below.
the fall in the pool of available labor appears to have bottomed out. pic.twitter.com/EXTpfFPl1f

— econhedge (@econhedge) March 8, 2019
The pool is hovering where it bottomed last cycle and is above the 1990s cycle bottom. If there isn't much labor available, there will be more wage growth and employment growth will be limited. The unemployment rate is in the process of bottoming. It might not have reached its trough, but it is close. The rate stabilizes with employment growth between 145,000 to 155,000.
Recession Not Coming Soon
Full employment doesn't mean the economy is headed for a recession. The chart below does a great job of showing how declining yearly private payroll growth is in the full employment zone.
Disclaimer: Please familiarize yourself with our full disclaimer here.