How Does Jayant Bhandari Maximize Returns And Minimize Risk?
TM editors' note: This article discusses a penny stock and/or microcap. Such stocks are easily manipulated; do your own careful due diligence.
Sometimes a market in turmoil offers opportunity. Independent investment adviser Jayant Bhandari regularly sifts through bourses to find opportunities that maximize his reward for the least amount of risk. Bhandari currently sees two paths to value: companies that were either oversold in heavy tax-loss selling late in 2015 or in the "free upside" offered in arbitrage situations. In this interview with The Gold Report, Bhandari explains why much of the world's populace is already chasing gold and why a smattering of junior gold equity names offer more than what a market in turmoil might suggest.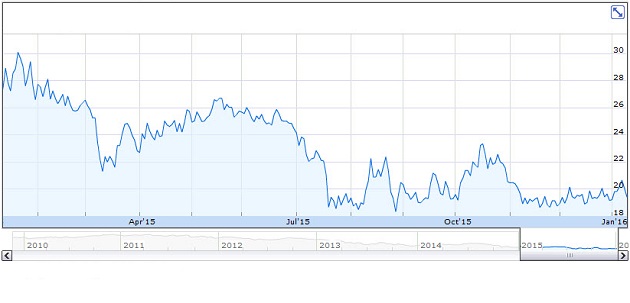 Market Vectors Junior Gold Miners ETF 1-Year Chart
The Gold Report: So far in 2016, Saudi Arabia has severed diplomatic ties with Iran over a religious dispute, and several Saudi allies have followed suit. Meanwhile, China's major stock exchanges started the year with a selloff, prompting the Chinese government to inject $20 billion into the system to help stabilize it. Which situation is likely to have a greater impact on the gold price?
Jayant Bhandari: It's not only a problem in the Middle East. The problem is in Africa. The problem is in South America. The problem is in Central and Southeast Asia. There is a huge amount of political turmoil in these areas. The reality is that most of the countries outside the West, with the exception of China and some smaller city-states, look very unstable. This will contribute to gold chasing by the populations in these countries because the economies are stagnant in all these countries except China and some city-states.
TGR: If there is global instability, don't rough waters threaten to sink all boats, even gold?
JB: These are not sinking ships, these are ships that are stagnating. The economies in these countries are stagnating, and some of the countries are politically unstable. In all these cases, people buy gold. Historically, most of the gold purchasing has happened in the Middle East and the Indian subcontinent. These countries have negative-yielding economies, which means that investing in manufacturing or investing in infrastructure does not provide investors with a profit in these countries. Contrary to popular myth perpetuated by the World Bank and the International Monetary Fund, it is not the lack of capital that keeps poor countries poor, but their utter failure to productively deploy the capital.
For the last 30 years, imported technology from the West allowed these economies to grow very quickly. But the people in these countries haven't changed their cultures, which continues to be tribal and irrational. I am from India and the country completely refuses to change its ways of thinking. It benefitted from the low-hanging fruit that came with technology from the West, but the low-hanging fruit is gone.
TGR: What role do you expect India's stagnating economy to play in terms of gold demand in 2016 and beyond?
JB: Indians are already buying increased amounts of gold. The reason is that the Indian stock market is going nowhere. When you adjust for inflation, which is typically 8–10% every year, investments do not provide you with any return, often negative returns. That's when investors start buying gold and property. The West continues to believe India will be the next China. I guarantee you that India is not the next China. Worse, I'm increasingly scared about India, as it has taken the path of fanaticism, in religion and in nationalistic feelings, both based on arrogance and dogma rather than on principles.
TGR: In different blog posts you've written that China's economic growth will continue for the foreseeable future. What are you seeing that most economists are not seeing when it comes to China?
JB: The Chinese economy is still growing at between 6 and 7%. Economists like to say that China is slowing. That's erroneous. China is not slowing; Chinese growth is slowing. These things are different. Chinese growth is falling, which has to happen for a country that has grown at such an enormous pace for 20–30 years. I see nothing wrong with that. At 6–7%, China's economy is growing faster than most economies.