How Do I Trade These 'Melt-Up' Markets?
Video Length: 00:52:57
Markets are bullish going into Tuesday's trading session, and with big inflation news on the schedule, combined with easy magnets back at major highs, it's easy to see these markets "melting higher" on Tuesday morning…
"Melt-Up markets" can be challenging because we need to get aggressive, but it's worth the effort because the targets are HUGE!
E-Mini S&P (ES):
(Click on image to enlarge)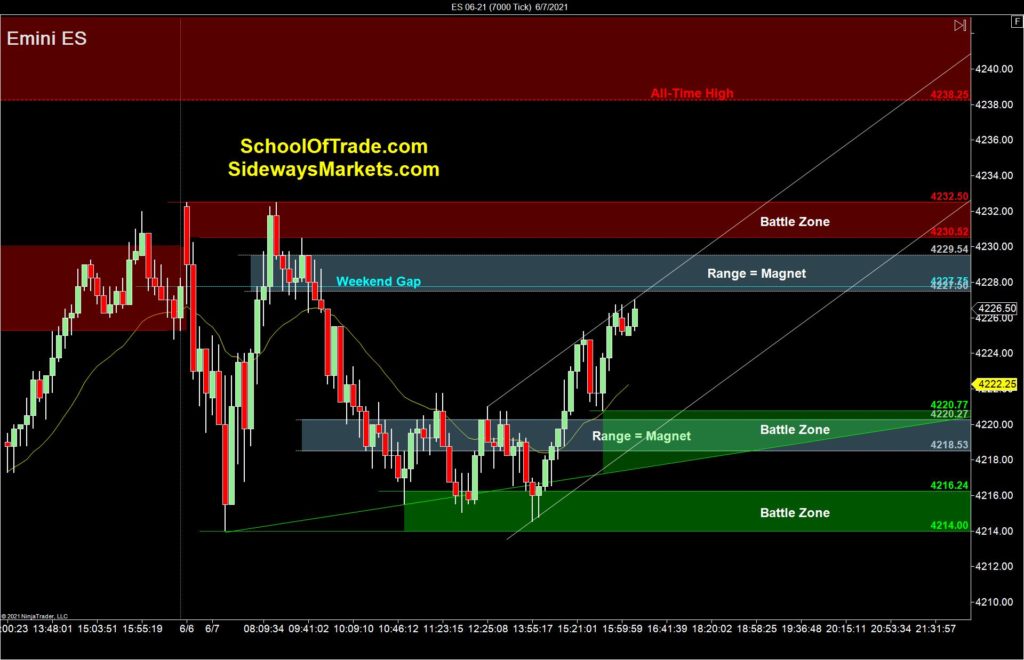 E-Mini Keys to Success:
Buyers had a strong "runaway" trend last Friday, which led to a sideways "range day" the following day.
We have two ranges on the chart and price expected to rotate back and forth between each of them.
Our goal will be to trade the "edges" of these large range; buying low, selling high, avoid the middle and focus on failures (and breakouts) for entries.
Best Trades for Tomorrow:
Range = Focus on failures around the edges & watch for breakouts.
Buy the seller failure around the lows of the range
Sell the buyer failure around the highs of the range
Trade the breakouts both higher and lower.
E-Mini Nasdaq (NQ):
(Click on image to enlarge)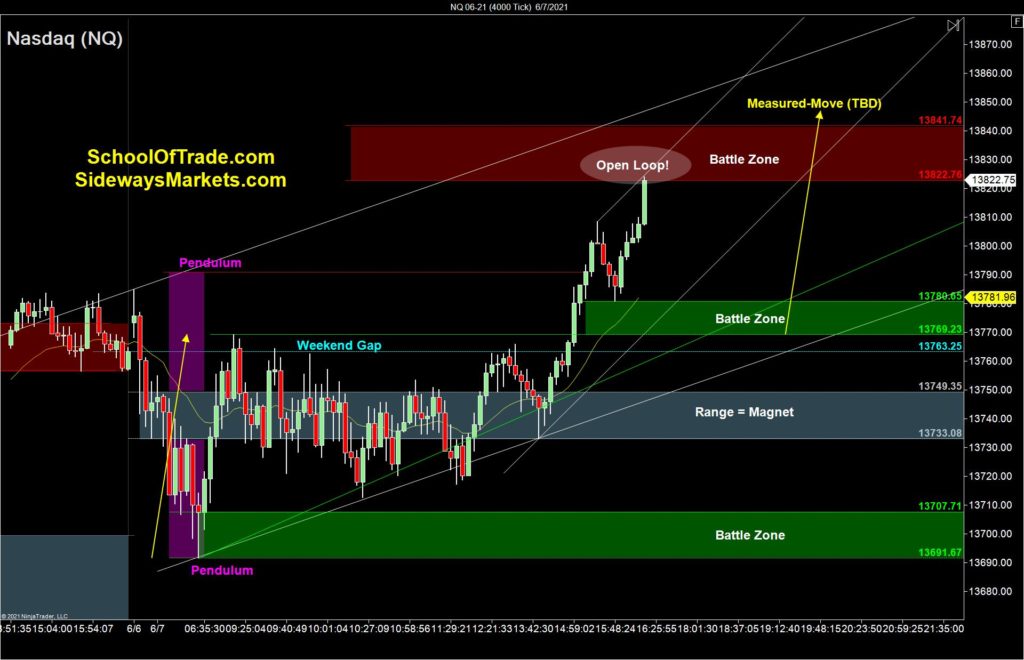 Nasdaq Keys to Success:
The day began with a choppy trading-range, but with this strong 123-breakout clearing through the pendulum-swing overhead, we know the bulls have firm control of this new trend.
Buyers will be looking for entries on pullbacks and traps in an attempt to ride this open-loop breakout for another leg higher.
Sellers have to sit on hands right now and wait for a reversal because they don't have any momentum on their side.
Best Trades for Tomorrow:
Trends = continuations and reversals.
Buy the trap or seller failure down in the 'Battle Zone'
Buy the low of a developing range
Sell the nested failure off these highs
Sell the 123-Reversal going back into the range.
Gold Futures (GC):
Disclaimer: Join our Free Trading Course. Joseph James, SchoolOfTrade.com and United Business Servicing, Inc. are not registered investment or ...
more