Housing Market Review (November, 2018) – The Federal Reserve Takes Note As Housing Deepens Its Slowdown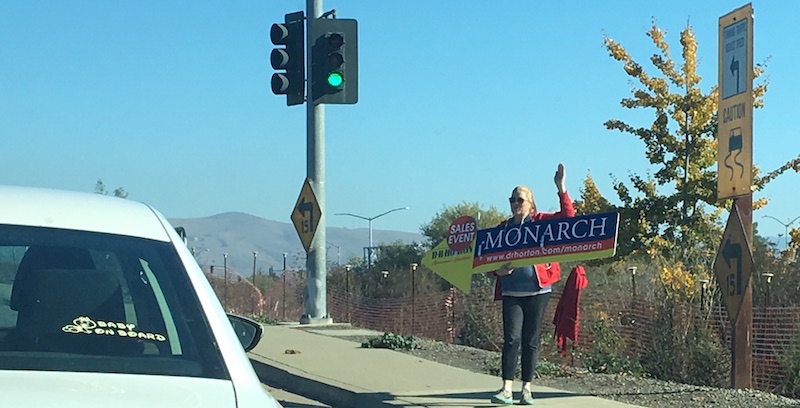 Home builders are pulling out the stops to get homes sold.
I saw a flicker of hope for home builders in the May Housing Market Review. Traders decided to snuff that flicker out very quickly afterward. When I wrote June's housing market review and described a "struggling flicker," the iShares US Home Construction ETF (ITB) was once again bouncing off the bottom of 2018's trading range. By the time of the September Housing Market Review, ITB was still holding to its trading range, but weakening housing data made for a precarious outlook. In September, ITB finally broke down and hit a 13-month low. October ushered in a complete collapse that was very plunge-worthy. After surviving another dip, ITB gained 3.8% in November in a small sign of stabilization. The index is now on the edge of an important breakout above its declining 50-day moving average (DMA) resistance. A clean breakout would confirm that the market has finally adjusted to the lower profile for the housing market.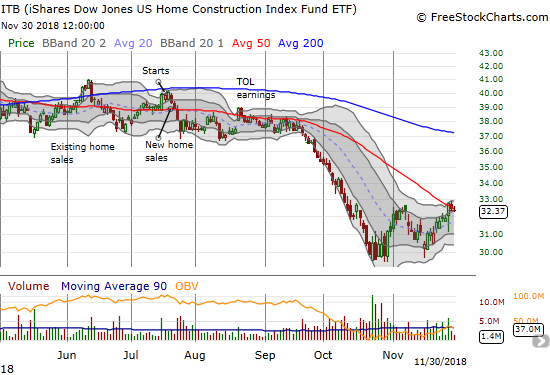 The iShares US Home Construction ETF (ITB) is struggling to break through critical 50DMA resistance.
Conditions got bad enough in October that analysts started issuing downgrades. These downgrades can still have an impact in a trading environment that is vastly improved from October. On Friday, November 30th, RBC left its rating on Toll Brothers (TOL) at outperform but dropped its guidance for 2019 order growth. That ding was enough to knock TOL's price down 1.9% on the day. The stock ended down 2.0% for the month after stopping just short of its highest price of the month.
The deteriorating conditions in the housing market also caught the notice of the Federal Reserve. The minutes from the November meeting included some very telling quotes:
"Real residential investment declined further in the third quarter, likely reflecting a range of factors including the continued effects of rising mortgage interest rates on the affordability of housing…

Most borrowers in the residential mortgage market continued to experience accommodative financing conditions, although the increase in mortgage rates since 2016 appeared to have reduced housing demand, and financing conditions remained somewhat tight for borrowers with low credit scores. Growth in home-purchase mortgage originations slowed over the past year as mortgage rates stayed near their highest level since 2011, and refinancing activity continued to be very muted."
I will be keenly interested to see whether the Fed surfaces issues in the housing market as a driver of whatever decision it makes on monetary policy in its upcoming December meeting. I am sure the wording will be carefully crafted to avoid creating panic about the housing market.
New Residential Construction (Single-Family Housing Starts) – October, 2018
While housing starts surged in May and left no doubt that home builders were confident as ever, the subsequent plunge in housing starts in June appeared to temper that enthusiastic interpretation. Small increases from July through October seem to have stabilized things for now. This stabilization is no longer much solace in the context of a housing market that has apparently peaked for the foreseeable future.
Single-family housing starts for September were revised significantly upward for the second straight month from 871,000 to 881,000. October starts decreased month-over-month by 1.8% to 865,000. On an annual basis, single-family housing starts decreased by 2.6%. This decrease is the third in the last five months. June's year-over-year decline was the first for housing starts since August, 2016, and June's level sits as the lowest of the year. These recent annual declines are relatively significant. I am no longer worrying that something important has fundamentally changed in the housing market: I have concluded that the fundamental change is here as confirmed by the builder sentiment readings (see below). The breakdown in slow motion continues.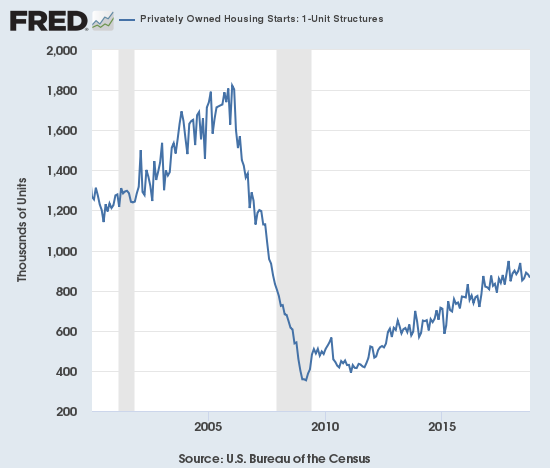 The post-recession uptrend in starts has apparently come to an end. Can starts at least remain in a period of stabilization?
Source: US. Bureau of the Census, Privately Owned Housing Starts: 1-Unit Structures [HOUST1F], retrieved from FRED, Federal Reserve Bank of St. Louis, November 20, 2018.
Over the 8 months prior to May, regional year-over-year changes in starts exhibited wide dispersion. For May, housing starts were very strong across the board. The dispersion returned in July and has remained since then. For October, the Northeast, Midwest, South, and West each changed 9.4%, -11.8%, -10.1%, and 17.6% respectively. The bump up in July housing starts was less impressive than it appeared given it was mainly driven by the Midwest. For August, only a second month of gains for the West prevented housing starts from looking worse. In September, the regions delivered solid performances outside of the Northeast. The surge in starts in the West particularly stands out given it follows a 10.4% year-over-year gain in September. The West is out-performing and overall starts would look a lot worse otherwise. Assuming a housing slowdown is in full swing, the West could suffer significant drops in home builder sentiment in coming months as these strong starts turn into over-supply and/or lower prices.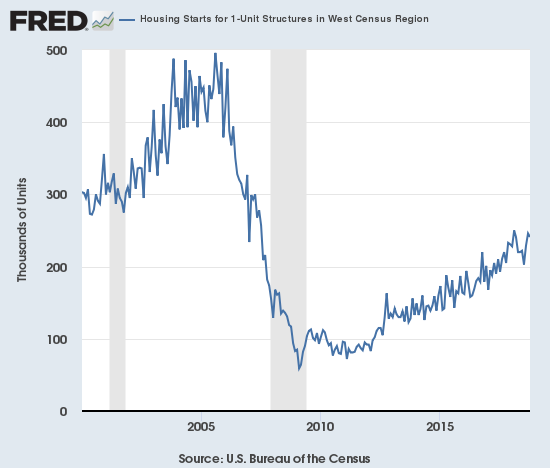 While 1-unit housing starts top out on a national basis, the West is surprisingly holding close to its post-recession highs thanks to a September jump.
Source: U.S. Bureau of the Census and U.S. Department of Housing and Urban Development, Housing Starts for 1-Unit Structures in West Census Region [HOUSTW1F], retrieved from FRED, Federal Reserve Bank of St. Louis; November 21, 2018.
Existing Home Sales – October, 2018
Existing home sales ended a 5-month losing streak with a small month-over-month increase for October sales. However, sales continued its losing streak for year-over-year changes with an eighth annual decline in a row. For August sales, the National Association of Realtors (NAR) chose to celebrate headlines about a stabilization of sales and the end of the decline, but I countered with my skepticism. For September sales, the NAR seemed to finally acknowledge a sinking reality. However, the NAR perked back up in reporting the October sales with mixed messaging that failed to highlight the fundamental realities of a slowing market.
Disclosure: Long ITB calls, long PHM, long LGIH.
Follow Dr. Duru's commentary on financial markets via more