Housing Market Review – Spring Looks Ready To Bloom But Will It Bear Fruit? (March, 2017)
The last Housing Market Review covered data reported in February, 2017 for January, 2017. At that time, the iShares US Home Construction (ITB) was pressing against a near 10-year high. Uptrends in the 20, 50, and 200-day moving average suggested that "the coiled spring" was uncurling up and to the right. In March, ITB launched into that near 10-year high. Strong reports from the housing market and solid earnings reports combined with an initially benign response to another rate hike from the U.S. Federal Reserve to lift ITB to higher heights. While ITB swooned with the general stock market in the last week, the ETF holds a solid lead over the S&P 500 (SPY) as the seasonally strong period for housing stocks continues apace.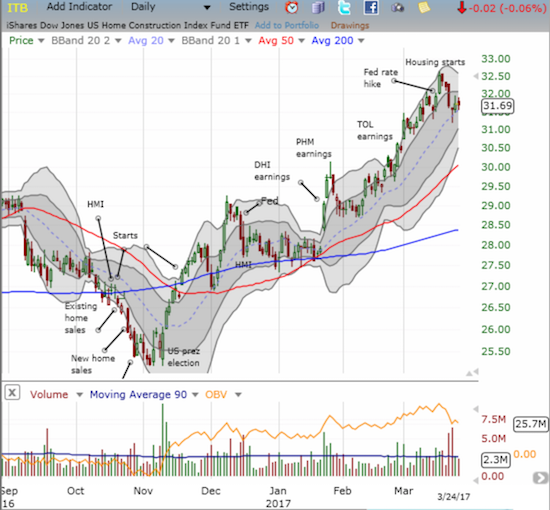 The iShares US Home Construction (ITB) surged in March. The current test of the 20-day moving average (DMA) demonstrates the strength of the current uptrend.
Source: FreeStockCharts.com
In the month of January, accelerating existing home sales contrasted with decelerating new home sales. For February, the two flipped around. Homebuilder sentiment once again stood in the balance. After two consecutive down months, sentiment resynchronized with housing starts and spurted higher to a new post-recession high. ITB looks like it is setting up for its next up-leg but larger issues may loom for home builder stocks. If confidence wanes in the ability of the Federal government to deliver on regulatory relief and tax reform, then home builder stocks could easily sell-off further with the market. Given the seasonally strong period for homebuilders is coming to an end soon, I will no longer look to buy dips aggressively (perhaps the summer?). I plan to continue holding the few home builder stocks that I own (Toll Brothers (TOL), Century Communities (CCS), and Tri Pointe Group (TPH)). I am also holding Invitation Homes Inc. (INVH) as a long-term secular play on rental housing.
New Residential Construction (Housing Starts) – February, 2017

Single-family housing starts for January were revised slightly downward from 823,000 to 819,000. February starts managed a significant monthly gain of 6.5% to 872,000. This change reaffirms the post-recession uptrend. On an annual basis, single-family housing starts leapt 13.5%, above January's year-over-year increase of 11.1%.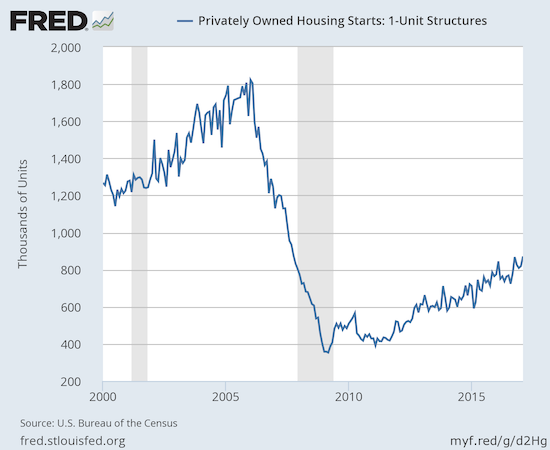 The post-recession uptrend picked up steam again in February.
Source: US. Bureau of the Census, Privately Owned Housing Starts: 1-Unit Structures [HOUST1F], retrieved from FRED, Federal Reserve Bank of St. Louis, March 16, 2017.
Across the regions, starts were up double digit percentages year-over-year except the Northeast which edged upward 3.8%. The West returned to gains with a 10.8% jump, close to December's 13.5% gain. January delivered a 1.2% drop. The South was the big winner for a second month in a row with a 16.1% gain that just missed January's large 17.4% year-over-year jump. The Midwest gained 13.2%.
Existing Home Sales – February, 2017
For January, existing home sales returned to gains and hit levels not seen since February, 2007. For February, existing home sales dropped sharply from the previous month's post-recession high and served up a reminder of the month-to-month volatility in this series. Although year-over-year sales were still up, the National Association of Realtors (NAR) reverted to the sober tones it reserves for down months:
"Realtors® are reporting stronger foot traffic from a year ago, but low supply in the affordable price range continues to be the pest that's pushing up price growth and pressuring the budgets of prospective buyers…Newly listed properties are being snatched up quickly so far this year and leaving behind minimal choices for buyers trying to reach the market."
The seasonally adjusted annualized sales of 5.48M were down 3.7% month-over-month from an unrevised 5.69M in sales for December. Year-over-year sales increased a healthy 5.4% (compare to November's 15.4% year-over-year pop, December's 0.7% increase, and January's 3.8% rise). Sales dropped to levels last seen September, 2016.
Full disclosure: long TOL, TPH, CCS, INVH
Follow Dr. ...
more