Historic Transaction In Bullion Industry. Will It Transform Gold Market?
What a deal! Newmont Mining will buy rival Goldcorp, creating the world's largest gold miner. What does it mean for the gold market?
New Wave of M&A in the Bullion Industry
Just a few weeks ago, Barrick Gold merged with Randgold Resources. The $18.3 billion-deal has created a sector-leading miner owning top gold mines and the largest reserve base among its peers. Initially, the new company had a market capitalization of more than $23.75 billion.
Before the dust fell, another news shook the bullion industry. Just a few days ago, it was revealed that Newmont Mining would be buying Goldcorp in a massive $10 billion deal. The resultant company will be the world's largest gold producer by a number of ounces mined (about 8 million ounces annually), larger even than "New Barrick" (about 6.6 million ounces per year).
These two deals may be just the start of a big shake-up in the bullion industry. After all, the sector desperately needs consolidation. Lackluster bullion prices hit the miners' profitability in the last few years, pushing gold mining out of favor for many investors. A new wave of mergers and acquisitions could, thus, reduce costs and bring profitability back to the gold mining sector. Hence, if we see a smart consolidation, mining stocks can go up. Given the very low valuations relative to the S&P 500 (see the chart below, which compares the market value of New Barrick with Newmont and the general stock market index), it might be a buying opportunity (however, it's not easy to invest in mining stocks, picking the right mining stock, etc.).
(Click on image to enlarge)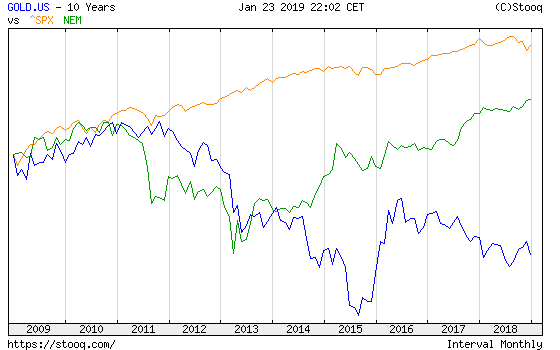 Chart 1: New Barrick's market value (blue line), Newmont's market value (green line) and the S&P 500 (orange line) over the last ten years.
Implications for Gold
What does the new wave of M&A in the bullion industry imply for gold? Not so much, at least not directly. The consolidation may improve the situation of the sector, but it will not affect the gold prices, set in the international markets in London and New York. Gold production costs may fall, but gold bulls should not worry – costs do not drive prices. It works the other way around – the lackluster gold prices have finally pushed gold producers towards consolidation, whose purpose is to reduce costs and boost productivity.
Disclaimer:
Please note that the aim of the above analysis is to discuss the likely long-term impact of the featured phenomenon on the price of gold and this analysis does not indicate ...
more