Higher US Car Tariffs Would Come At A Bad Time
According to a report from press agency AFP, the US Department of Commerce has labelled the imports of cars a threat to national security. This gives President Trump the option to follow up on his threat to hike import taxes on cars and car parts by 20 percentage points.
Source: Shutterstock
For the EU economy, the direct effect of higher US import taxes would be limited (-0.1%GDP). But in the midst of the current slowdown and already abating economic sentiment, a tariff hike could be felt indirectly as well through negative effects on business and consumer confidence. This would at least double the negative effect on EU GDP. If the tariff precipitates a 'tit for tat' trade battle between the US and EU, economies on both sides of the ocean would be hurt significantly more.
Limited exposure of European autos to US demand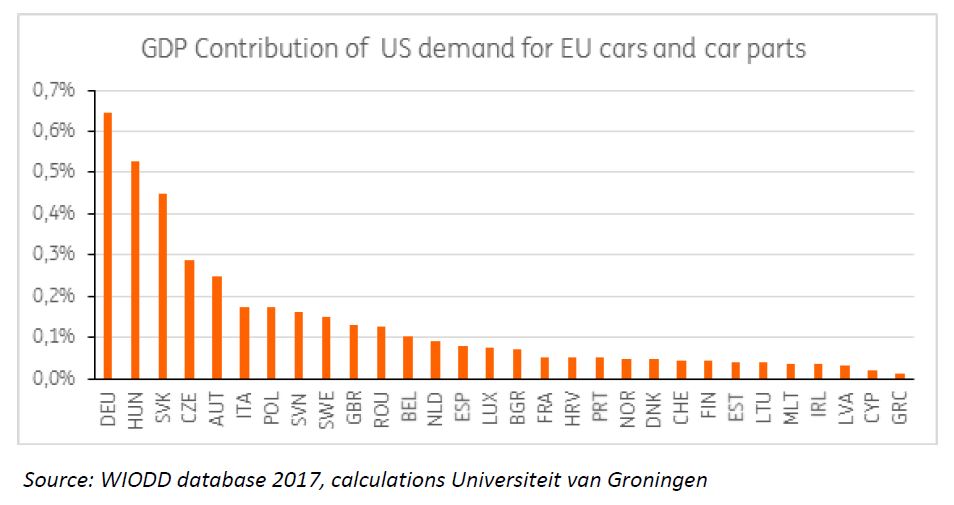 The chart above shows that behind the benign average effect for the EU as a whole (-0.1%GDP), there are significant differences between EU members states. For Germany, the share of total exports of cars and car parts that end up in the US is the highest of all EU countries. But even for Germany's flagship auto industry, a rise in American import tariffs is, in itself, not the disaster many think it is.
Despite having a strong industrial base, Germany's economy is largely made up of services (71%). The car industry adds no more than 4% to German GDP and only one-eighth of this depends on exports that end up in the US. Don't forget that some German car makers like Mercedes and BMW produce 30% to 50% of the cars they sell to Americans locally in the US. The equivalent of the direct damage for the EU as a whole is a hit of -0.2% for German GDP. Significant but not shocking. Actually, the effect could be somewhat lower because German car exports include many luxury vehicles, which usually suffer a below-average fall in demand when prices rise.
Hungary, Slovakia and the Czech Republic are also strongly associated with the automobile sector. But the direct effect on the overall economy, through lost revenue in the automobile sector, is rather limited as well.
Disclaimer: The information in the publication is not an investment recommendation and it is not investment, legal or tax advice or an offer or solicitation to purchase or sell any financial ...
more