Here's Why Your Index Funds And Bonds Won't Keep Up Over The Next Decade
Now that we have started the 2019 fourth quarter, my thoughts have turned to the new year and new decade starting in 2020. The current stock market bull market started a decade ago (in March 2009) and the average return for the last 10 years has been 40% above the long term average. Investors who believe the stock and bond bull markets of the previous 10 years will continue into the next decade may be deluding themselves.
I am most worried about those who have most of their retirement wealth tied up in an IRA or 401(k), invested in exchange traded funds (ETFs) because they are "low costs". I think there is a strong possibility for this strategy to also be "low returns" over the next decade. Let's discuss a few points that may have investors overconfident about their portfolios in the 2020's.
As of August 31, the average annualized return for the SPDR S&P 500 ETF (SPY) for the last 10 years was 13.29%. That's from the bottom of the last bear market to what is currently a market near record highs. That's a compounding return, so money invested in SPY in mid-2009 has more than tripled in value.
That 13.29% average is 40% higher than SPY's average annual return of 9.44% since it launched in 1994. A reversion to the mean over the next decade to get the 20-year return back to average would require low single digit returns through the 2020's. More importantly I have read a number of studies that when the market is starting from a near record level the returns going forward have been much lower than the long term averages.
The low stock market return years may already have started. Look at the 10-year chart for the SPY and you will see the ETF's value has grown very little since the start of 2018. Since that peak in January 2018, the SPY share price is up just 4%. You can add in a couple percent per year from dividend income.
(Click on image to enlarge)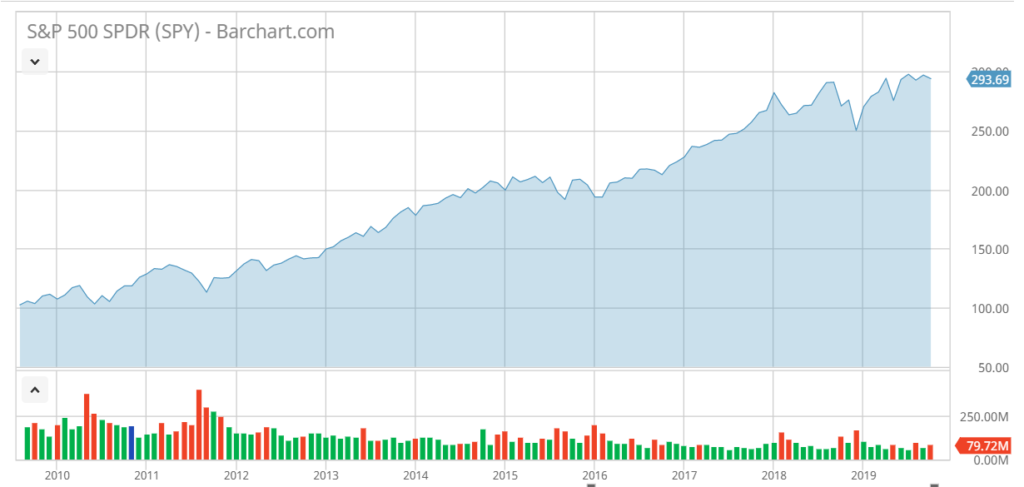 My point is, think about how you will reach your investment goals if the next decade has stock market returns on average of 2% to 4%?
Disclaimer: The information contained in this article is neither an offer nor a recommendation to buy or sell any security, options on equities, or cryptocurrency. Investors Alley Corp. and its ...
more