Here Are The Three Companies Apple May Buy Next, According To JPM
With Apple's growth rate appearing to have plateaued now that the iPhone market appears to be saturated and the company reporting its first holiday quarter iPhone revenue decline since 2000...
(Click on image to enlarge)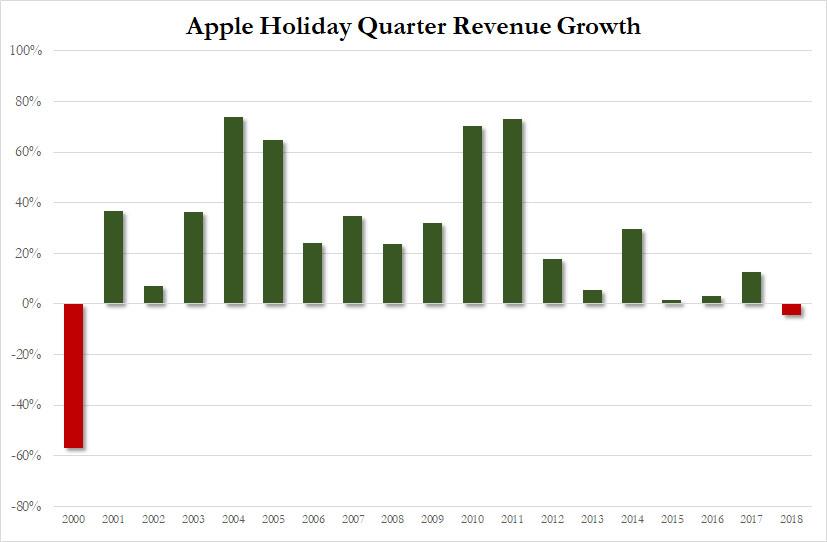 ... questions are starting to swirl if and how Apple will use its record $130 billion in net cash, along with some $45 billion in cash flow generated every year after dividends, to acquire some additional and much-needed growth for the company that until recently had the world's biggest market cap.
To be sure, acquisition targets for Apple have been widely discussed in press reports on a regular basis, despite the company itself offering no comments on the subject or giving any indication to investors of its intentions about future products/services. According to a JPM sample survey of these press reports shows that speculation has included a wide range of industries, from automobile manufacturers, like Tesla, to information platforms, like Twitter.
(Click on image to enlarge)
Yet while investors are hardly complaining about the massive buyback pace, including a record $73 billion just last year, JPMorgan according to analyst Samik Chatterjee, investors are increasingly hopeful that Tim Cook & Co "uses its balance sheet strength to insulate the business against often-seen disruptions in the technology landscape, some of which Apple itself has
driven in the past" even though as the JPM analyst concedes, although "Apple does not have a history of large acquisitions", although clearly $175BN in gross cash can buy a lot of growth:
As shown in Table 1, Apple has a history of making multiple "bolt-on" acquisitions every year, which have largely been focused on bringing hardware technology that the company expects to be crucial to competitive differentiation in-house and better manage its development toward commercialization. In fact, Apple has been very successful with the strategy to-date as many of the applications in use on iPhones today can be associated with bolt-on technology acquisitions of the past (e.g., 3D sensing facial recognition, Siri speech recognition). Despite a track record of multiple acquisitions, the largest acquisition to date for Apple remains Beats Electronics, which was acquired for proceeds of $3 bn, while typical acquisition sizes are in the hundreds of millions. Apple's track record on acquisitions has made a lot of investors question the willingness of the current management team toexplore large acquisitions.