Hard & Soft Data Show Divergence
As you can see from the chart below, industrial production growth was 4% on a year over year basis. It was 0.3% on a monthly basis which met estimates.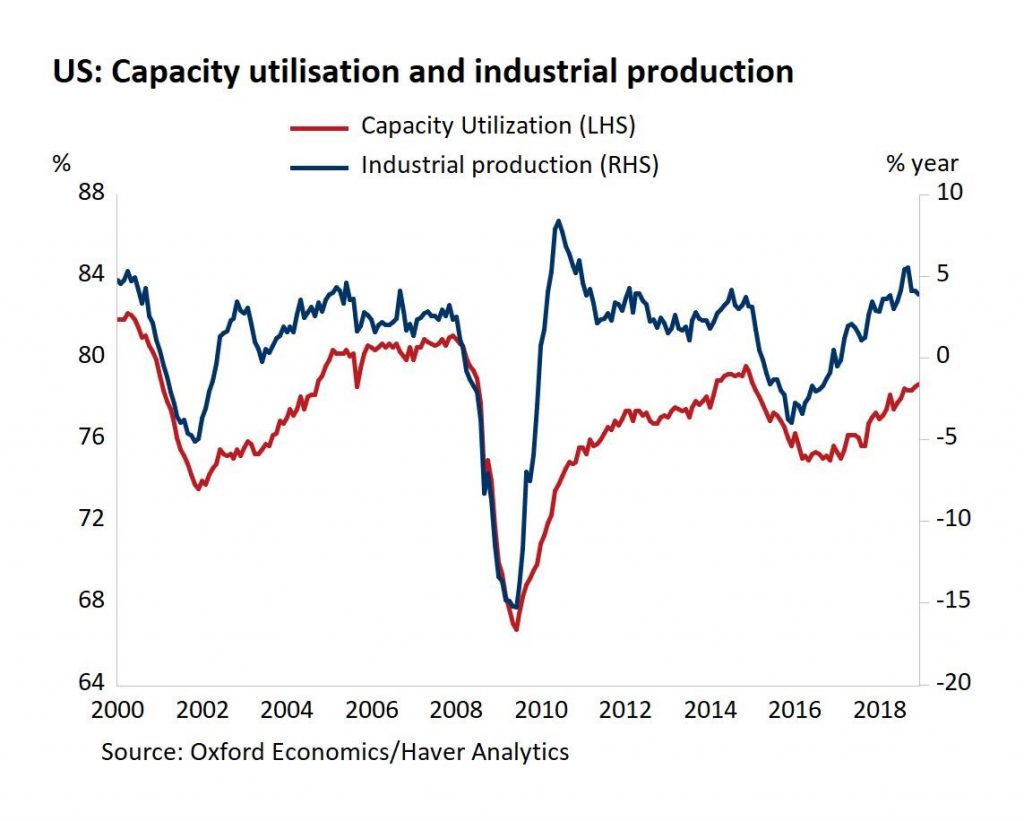 Source: Oxford Economics
Growth was 0.4% in November. Manufacturing was very strong as monthly growth was 1.1% which was the quickest growth since February 2018. It beat estimates for only 0.1% growth. Growth was 0.1% in November. As the chart above shows, capacity to utilization increased from 78.6% to 78.7%. It peaked for the cycle at 79.6% in November 2014. If capacity to utilization continues to increase at the rate it has been increasing at in the past 12 months, it will reach the cycle peak in a little over 6 months. While reaching the peak would signal there is less room to grow, that's a much better problem to have than a sharp growth slowdown which the ISM and Empire Fed reports implied.
Overall, manufacturing production was up 3.2% year over year. When you break down the results of this report, it looks even better than the headline reading. The chart below shows the weighted share of manufacturing sub-sectors that are contracting is the lowest since November 2010.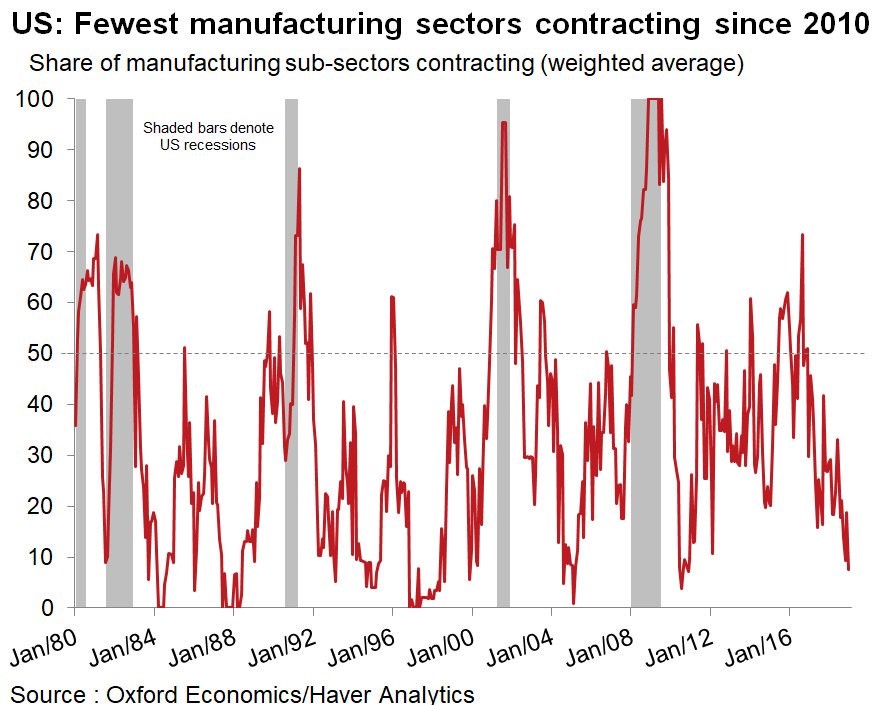 Source: Oxford Economics
The soft data is suggesting that manufacturing is near a recession, but the hard data shows there is across the board strength. Maybe surveys were negatively influenced by the political climate and stock market volatility.
Let's look at the details of this report. It was very great because the headline number showed strong growth even though utilities saw a 6.3% decline in production because of warm weather. The weather is irrelevant to the trend. Utilities data is the least important information when following the trend. This great report was bolstered by vehicle production, construction supplies, and business equipment. They were each up 4.7%, 1.6%, and 0.5% in the past month. They were up 7.8%, 2.1%, and 5% year over year. Mining was the strongest on a year over year basis as it was up 13.4%; it was up 1.5% monthly. Utilities were down 4.3% yearly. Finally, consumer goods were unchanged monthly and up 1% yearly.
Disclaimer: Please familiarize yourself with our full disclaimer here.