Hard & Soft Data Show Divergence
The stock market is in a unique situation because the government shutdown has delayed many economic reports from being released. The government shutdown has lasted 31 days which is 10 days longer than the previous record long shutdown. It's quite interesting to be in the information era where data is shared instantly, yet have little information on the economy. To be clear, the data will all be updated after the shutdown ends. The table below shows the 24 government reports which haven't been released because of the shutdown. The data is all for November and December.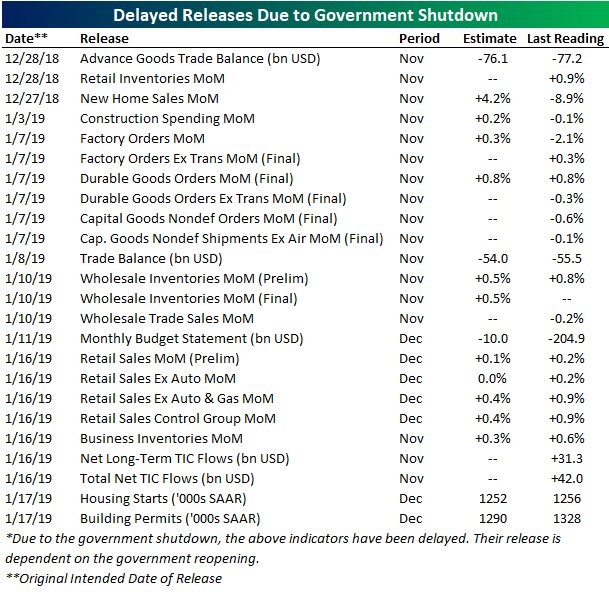 Source: Bespoke Investment Group
The Atlanta Fed GDP Nowcast is usually very accurate at predicting the initial GDP growth report at this stage in the quarter. However, now it isn't as accurate because of the missing data. It didn't update on January 17th because the new residential construction report didn't come out. The latest update has Q4 GDP growth being 2.8%. The New York Fed's Nowcast is at 2.57%, and the median of 10 forecasts in the CNBC rapid recap has growth at 2.9%.
Even though the stock market hasn't had much to trade off because of the lack of data, the S&P 500 is still up 6.54% year to date. This is the best 13 day start to the year since 1987. The S&P 500 started the year with a 13.93 forward PE multiple and now has a 15.11 PE. The stock market quickly priced in a recession at the end of 2018 and then reversed course quickly. It's quite something to see stocks reverse so sharply with the lack of data. The biggest pieces of information stocks have had to trade off is earnings. 53 out of 505 firms in the S&P 500 have reported earnings. The EPS beat rate is 73.58% and the sales beat rate is only 52.8%.
Very Good Industrial Production Report
The December industrial report is important because there isn't that much economic data being reported, and because the soft manufacturing data has shown weakness. We have discussed the weakness in the January Empire Fed manufacturing report and the weakening December manufacturing ISM PMI in previous articles. This report showed manufacturing was very strong. Hard data always trounces soft data. It's important to clarify that while both hard and soft data are collected through surveys, hard data is representative of the past whereas soft data exemplifies forward-looking expectations.
Disclaimer: Please familiarize yourself with our full disclaimer here.