"Good News Will Soon Be Bad News": Why BofA Is Turning Bearish In Q3
It just won't end: nearly four months after the Christmas Eve massacre which saw the S&P briefly dip into a bear market, and resulted in Mnuchin's famous call to the Plunge Protection Team and Fed Chair Powell putting the Fed's rate hikes on hold, sending stocks soaring back to all time high, professional investors just refuse to buy it... literally.
While so many analysts - including Marko Kolanovic and Charlie McElligott - have bet that it is only a matter of time before institutional and retail investors capitulate and allocate cash to the stock market, this has yet to occur, and according to EPFR the latest week saw another $1.1 billion in stock outflows ($7.9bn ETF inflows, $9.0bn mutual fund outflows), coupled with $8 billion in bond inflows.
Indeed, the three core trends that we have discussed since the start of the year remains largely intact, and include:
Trend 1.... credit not stocks:
Sixth consecutive week of broad inflows to IG, HY & EM debt funds; $102bn credit inflows YTD, a stark contrast with $91bn redemptions from stocks.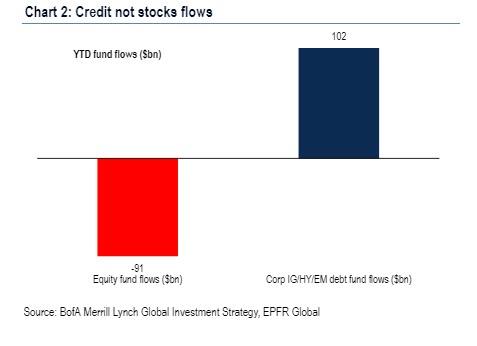 Meanwhile, with Q1 earnings season about to peak in the coming weak, hedge funds simply have no confidence in continued market upside as one can see by their net beta exposure, which as the DB chart below shows is "near YTD lows with the market near record highs" even as Gross Leverage is near 12M highs.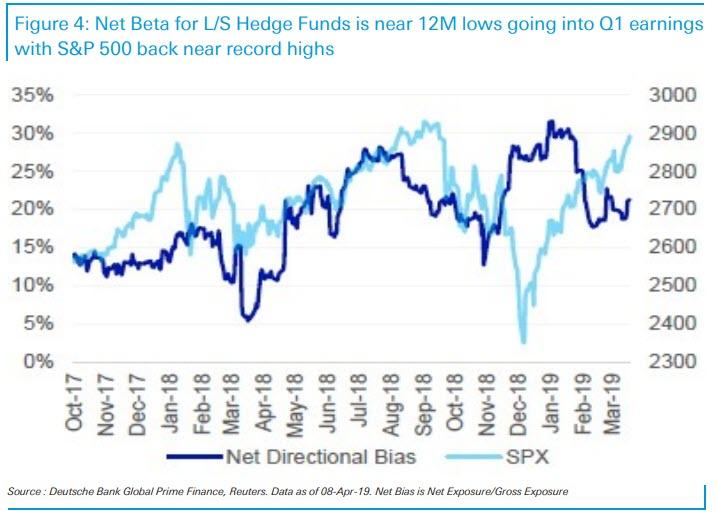 Trend 2…no thank EU
While the US saw modest inflows of $1.9BN in the last week, the outflows from European equities continue and after another $2.5 billion this week, we have seen a total of $138BN redemptions from EU (a whopping 10% of AUM) since March 18; In fact, as we noted last week, for the second month in a row, the BofA fund manager survey showed "short Eurozone stocks" as most crowded trade.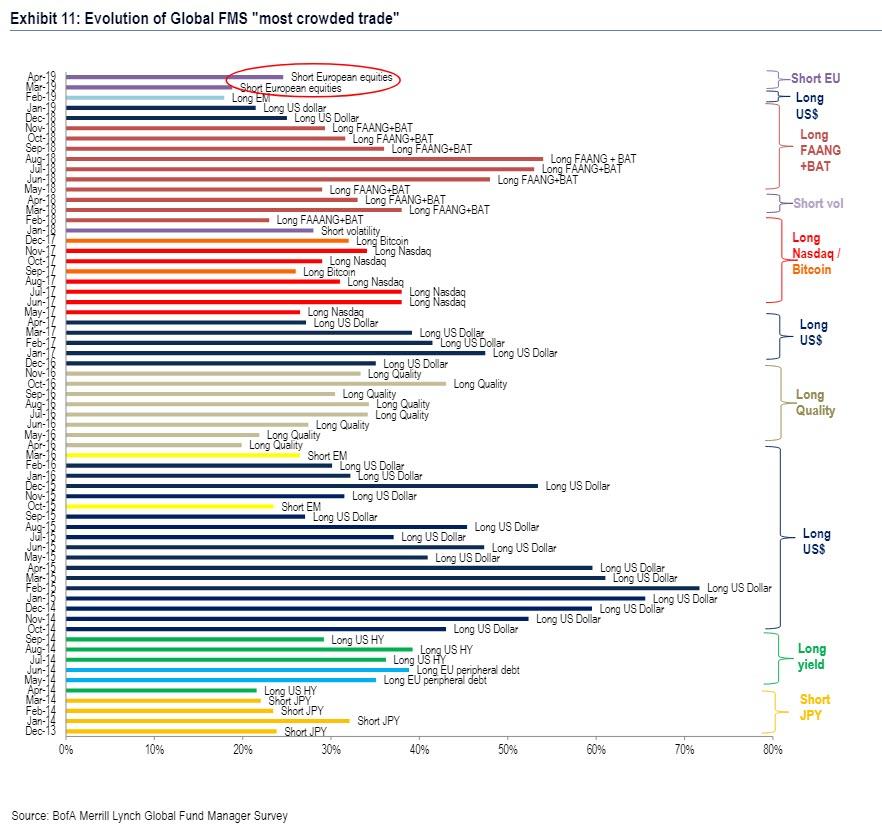 Trend 3…interest rate expectations have troughed
At least according to rate-sensitive equities, as we just witnessed the biggest inflows to financial sector funds in 8-months ($0.9bn) in contrast with biggest outflows from utilities in 2-years ($0.6bn).