Gold: The Last Trough Before The Seasonal Spring Rally Above $2,000
Fundamentals
January 11, 2021, 7 am PST. Gold is trading last at $1842. It's in a fast market. It is up $7.80. We have been all over the place with a low of $1817. Silver is at $25.08, up about 1.7%. The E-mini is down about 30 points and we seem to have entered into an area of support for the E-mini S&P near the Variable Changing Price Momentum Indicator (VC PMI) Buy 1 level.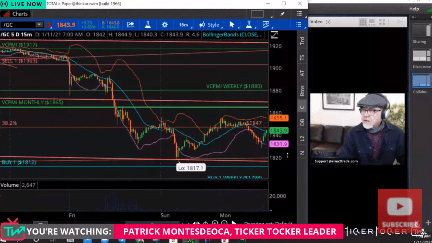 Courtesy: Ticker Tocker
From a fundamental point of view, the actions in Washington the past week have been unprecedented. It has created a certain amount of nervousness in the market, which is creating volatility. However, stocks continue to move up in the face of all the uncertainty politically. Political issues appear to have overtaken the pandemic in the news, even as COVID-19 numbers continue to set new records in terms of cases and deaths. After the unrest in Washington, there may be another wave of cases from that event.
The gold market appears to be discounting some of the early buying that came in. Gold tends to suck you in at the extreme above the mean and then revert, as it did from $1862. At $1817, the question is whether this is going to be the floor for the next rally.
The VC PMI daily average price for today for gold is $1,865. It appears to be matching the monthly average of about $1864. Therefore, this is a classic harmonic alignment between the daily and weekly numbers. If gold closes above $1865, it will be extremely bullish for the gold market. The Buy 1 daily level is $1812, which means we are identifying buyers just shy of the expected price to find buyers.
Last week, precious metals had a correction in part because the 10-year note yield went up about 1%. Interest rates rose. This contradicts the Fed's plan to keep interest rates low or at bay, given the massive debt globally, for as long as possible. If interest rates rise, then defaults will ripple through the system. Rising interest rates also will jeopardize the purchasing power of the US dollar. The Fed really has no choice but to keep interest rates low. If interest rates rose above 1.5% on the 10-year, then the economy would feel the heat and it would not bode well for the tremendous real estate bull market that we have seen. There could be a major collapse if interest rate rise.
Disclosure:I am/we are long GDX.
To learn more about how the VC PMI works and receive weekly reports on the E-mini, gold and silver, check us out on more