Gold: Short Squeeze?
Fundamentals
Today we have a couple of economic indicators that came out. We appear to be looking at an inflation rate that is a little higher than expected. Investing.com reported that retail sales fell in May, while producer prices rose.
Image Source: Pixabay
The CPI came in at 6.6% which was higher than expected. The 10-Year Note is not reacting at all. It is still at 1.501. We have come up slightly from the 1.43 low a few days ago, but no dramatic change in interest rates. The price of copper just fell off the table. It is down to 4.3520 in a major, major sell-off today. This does not appear to be related to any news of inflation running wild. Even the equity markets today are fairly quiet.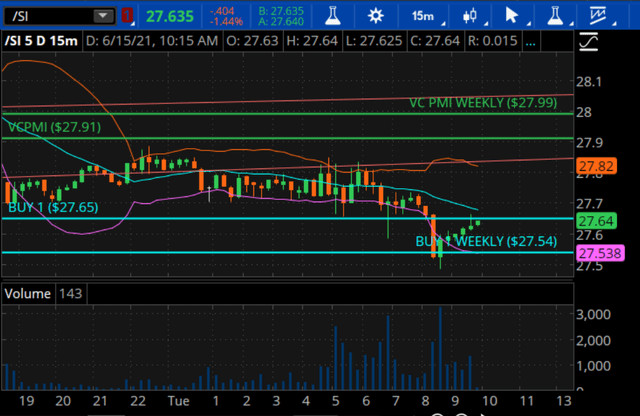 Courtesy: TDAmeritrade
Silver and gold have been all over the place this morning. Silver activated a Buy trigger from the Buy 1 level at $27.65 early this morning. It is in a buy mode. Gold is trading around the average of $1864. The Sell 1 level is $1883 and the Sell 2 level is $1898. The Buy 1 level is $1849 and the Buy 2 level is $1830. The market trading above the average price of $1864 means that it is in bullish price momentum, indicating the VC PMI target of $1883.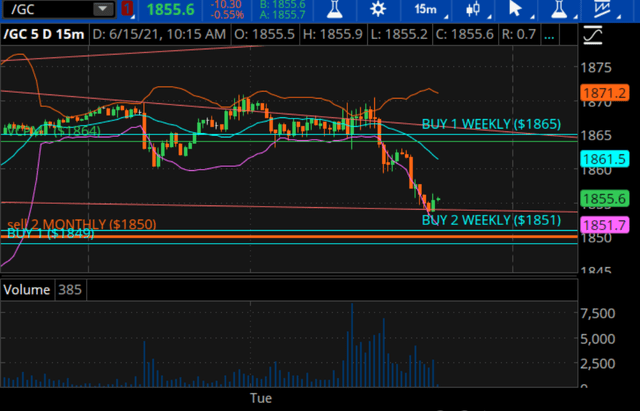 Courtesy: TDAmeritrade
The economic news did not seem to cause much of a reaction in the markets. So far, we have a pretty stable market. We appear to be looking at a buy the rumor, sell the fact. We have been expecting a surge in inflation, due to supply change issues and labor shortages, so the news today didn't surprise anyone. It is still unclear what the Fed will do about interest rates. The sentiment appears to be that the Fed will raise interest rates. However, it seems that the Fed cannot allow interest rates to rise or get out of hand. The debt to GDP ratio is around 300%, so any increase in interest rates is going to be devastating. Globally, debt levels are no better than for the US, so we are facing a staggering amount of debt. The Fed must keep interest rates low. The Fed is supplying dollars in massive amounts to avoid a credit squeeze as happened in 2008. The amount of repos per month is around $120 billion, so we are looking at a pretty bleak picture for the US dollar.
Disclosure: I am/we are long GDX. I wrote this article myself, and it expresses my own opinions.
To learn more about how the VC PMI works and receive weekly reports on the E-mini, gold, and ...
more