Gold Price Forecast: Rising Yields, USD And Powell's Testimony In Focus
Gold prices edged slightly higher during APAC session on Monday as the US Dollar (DXY) index traded steadily near the 50-Day Moving Average line. US Dollar weakness over the last two sessions offered gold prices some relief after a heavy selloff observed earlier last week. Markets await a fresh US$ 1.9 trillion US Covid relief package to be approved by Congress this week, while anticipating Fed Chair Jerome Powell's speech in the semiannual monetary policy report to Congress this Tuesday.
Gold prices have been trending lower since early January, weighed by vaccine progress and rising longer-dated Treasury yields. The 10-year US Treasury yield climbed to a fresh 12-month high of 1.370% on Monday as vaccine rollouts and stimulus hopes bolstered inflation expectations. Meanwhile, reflation hopes probably led to a rotation out from safe-havens such as Treasuries into riskier assets, resulting in rising yields.
US real yields, represented by 10-year Treasury inflation-indexed securities, also climbed to -0.87% on February 18th, hitting the highest level since November 24th. Real yields exhibit a historically negative correlation with gold prices, and their inverse relationship can be visualized in the graph below. Further rises in real yields may serve to undermine gold prices, which is non-yielding.
Gold Prices vs. 10-Year Treasury Inflation-Indexed Security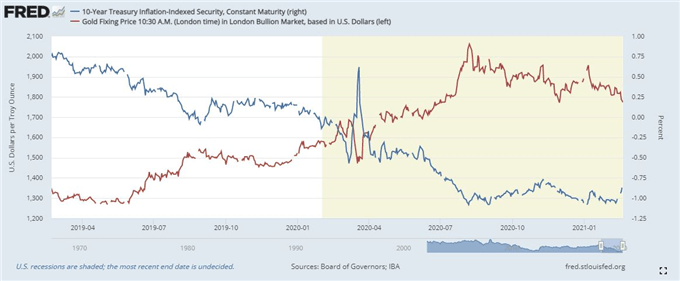 Source: FRED
With inflation and rising yields increasingly concerning traders, Jerome Powell's testimony this Tuesday will be closely eyed for any clues about future tapering. In view of encouraging vaccine progress around the globe and robust US retail sales figures in January, it might be difficult to argue that the economy remains weak and risks are skewed to the downside. However, any hint about tapering may be illusive as the job market has a long path to achieve full employment and core PCE inflation is well below the Fed's 2% target. Nonetheless, it would be critical to see how Powell addresses surging yields and inflation expectations, which might inhibit the central bank from carrying out further easing measures.
Disclosure: See the full disclosure for DailyFX here.