Gold Miners Underperform Even While Breaking Out
Gold miners soared in the last few weeks, broke above their declining medium-term resistance line. The picture is therefore clearly bearish, right? Not so fast – if the outlook was bullish, miners should be leading gold higher, just like they did in 2016, and this is definitely not the case. What gives? What are gold stocks really trying to tell us?
Let's start with the underperformance. Gold is quite close to its 2016 highs, but gold stocks…
(Click on image to enlarge)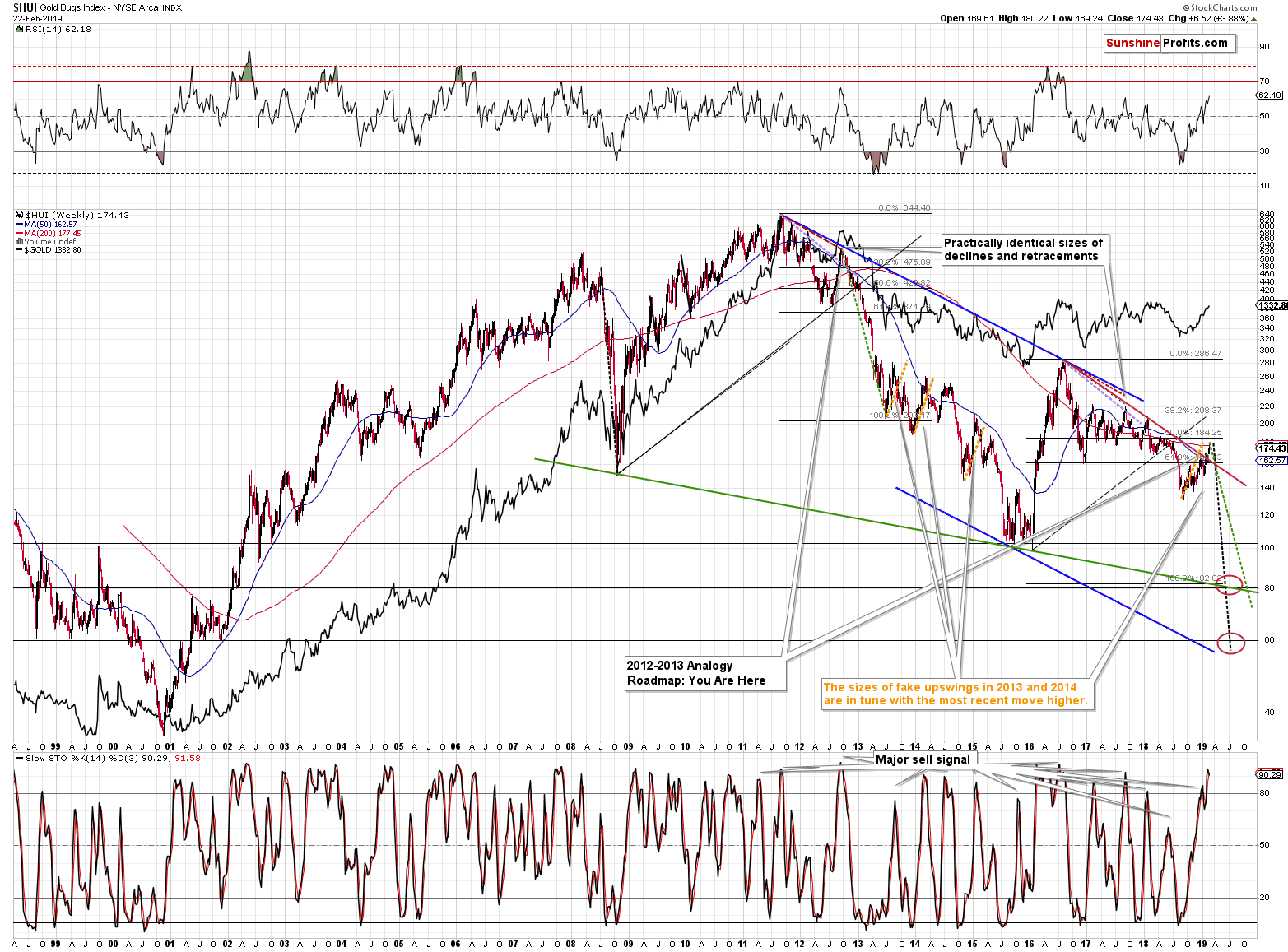 Gold stocks are not even close. The HUI Index - classic proxy for gold miners – would need to increase its value by about 65% to match 2016 high. And the size of the most recent upswing?
The last several months of higher prices are nothing to call home about when examined from the long-term point of view. In fact, looking at the forest instead of discussing individual trees, shows us something very interesting.
Please take a look at the orange text and lines on the above chart. The most recent upswing (called "start of the new bull market" by many analysts and gold promoters) is actually just as big as the three corrective downswings that we saw during gold miners' profound 2012 – 2016 decline. How profound can the implications of a rally truly be, if it's just like the moves that were previously followed by powerful and volatile declines?
The weekly Stochastic indicator provides very useful signals in case of gold mining stocks. And by useful, we mean effective. It was almost always the case that we saw a major top when Stochastics flashed a weekly sell signal – and it did so based on last week's closing prices.
But gold miners are rallying – just like in 2016!
They may have moved higher – that's true, but this move was definitely not at all as it was in 2016. At least not with regard to the direction. In 2016 gold mines truly soared and outperformed gold, leading it higher. This is definitely not happening right now. The move is relatively small (compared to what happened in 2016) and gold stocks underperform gold, instead of leading it higher. The more likely analogy to 2016 is likely to be the fakeness of the breakout that we just saw. In early 2016, the HUI Index briefly broke below the previous lows and started the powerful rally right after invalidating this fake move. The opposite appears likely right now – miners are likely to invalidate their recent breakout and then decline with vengeance.
Disclaimer: All essays, research, and information found on the Website represent the analyses and opinions of Mr. Radomski and Sunshine Profits' associates only. As such, it may prove wrong ...
more