Gold Gets A Helping Hand From A Friend
There's a very popular song which has the line 'I get by with a little help from my friends', and for gold this is most certainly the case, with friend Powell helping to inject some much needed momentum and direction into the price of gold, courtesy of the US dollar. And follows my gold post last week titled: Gold finally takes a peek over $1300 per ounce
(Click on image to enlarge)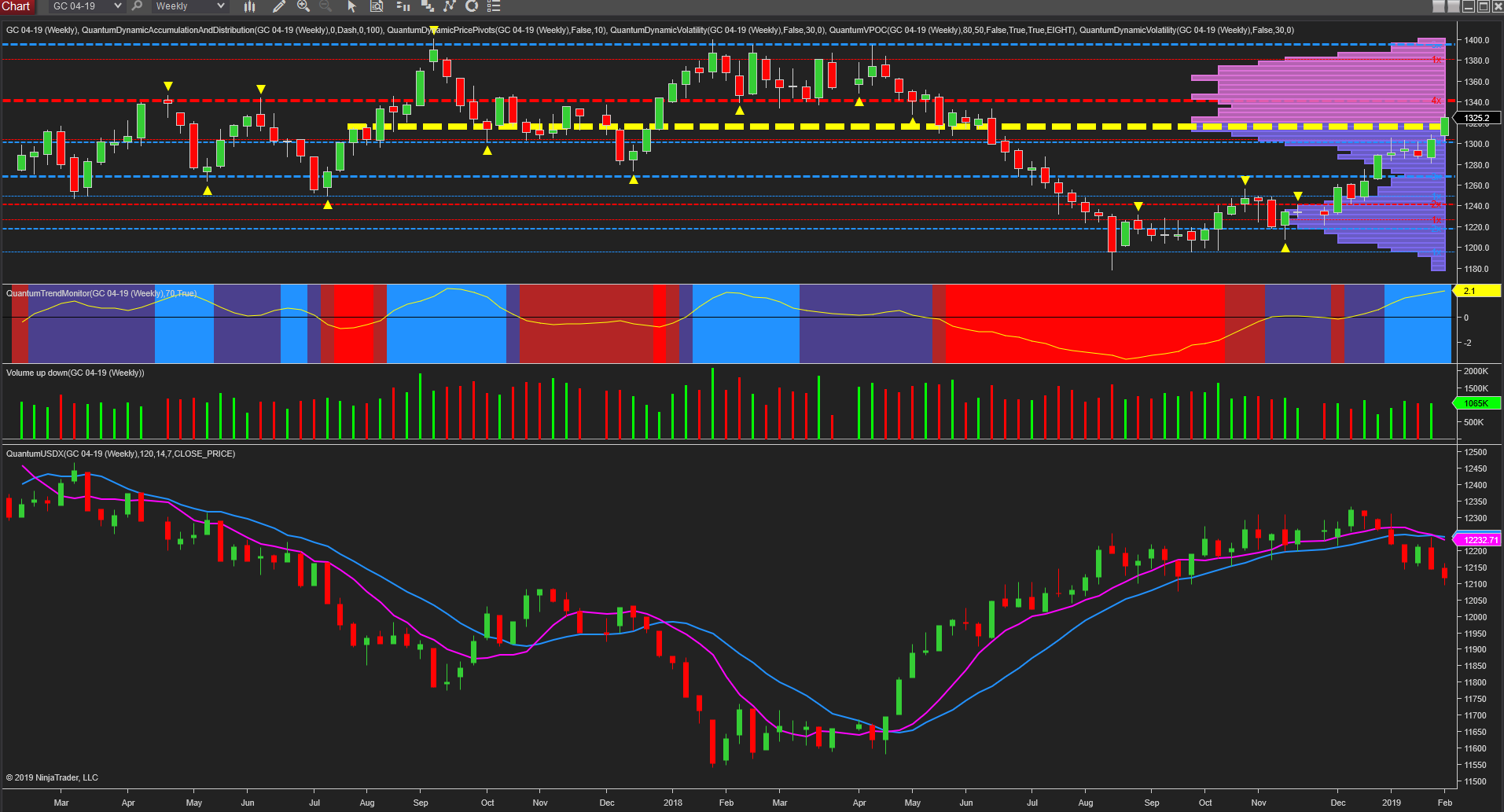 The split chart on the NinjaTrader platform neatly sums up the relationship with the US dollar index falling strongly, as gold rises with equivalent speed, and given the cooling of both rhetoric and hawkish intent, this pattern looks set to continue for some time. For gold bugs, the start of 2019 has been in sharp contrast to that of 2018, which saw gold fall relentlessly and only bottom out towards the latter part of the year. Since then, the precious metal has recovered its lustre, rising strongly and only pausing at the $1300 per ounce region, before Mr Powell stepped in to provide a helping hand and power the metal through this tricky area and up to the volume point of control in the $1320 per ounce area. So what next?
First, given we are at the fulcrum of the market at $1325 per ounce, we can expect to see some congestion build around the volume point of control itself as denoted with the yellow dashed line, as price agreement is reached. Once we begin to move away from this region, two key levels then await. First the strong resistance in the $1340 area, and once this is breached as expected, then a move towards the ceiling of current resistance at $1395 per ounce. This latter level is key, and one that has been tested several times in the last two years, and may once again prove to be an obstinate obstacle for further advancement in the bullish trend. But until then, let's enjoy the ride higher as Mr Powell and his colleagues will no doubt add further support and much needed help in due course.
Disclaimer: Futures, stocks, and spot currency trading have large potential rewards, but also large potential risk. You must be aware of the risks and be willing to accept them in order to invest in ...
more