Gold And Palladium Shake Hands
The price of palladium just exceeded the price of gold for the first time in 16 years. That's an epic even. But what does it really mean? And why should gold, silver, and mining stock investors care about the small palladium market?
In short, because this development can tell us something about the future performance of the PM sector in general.
(Click on image to enlarge)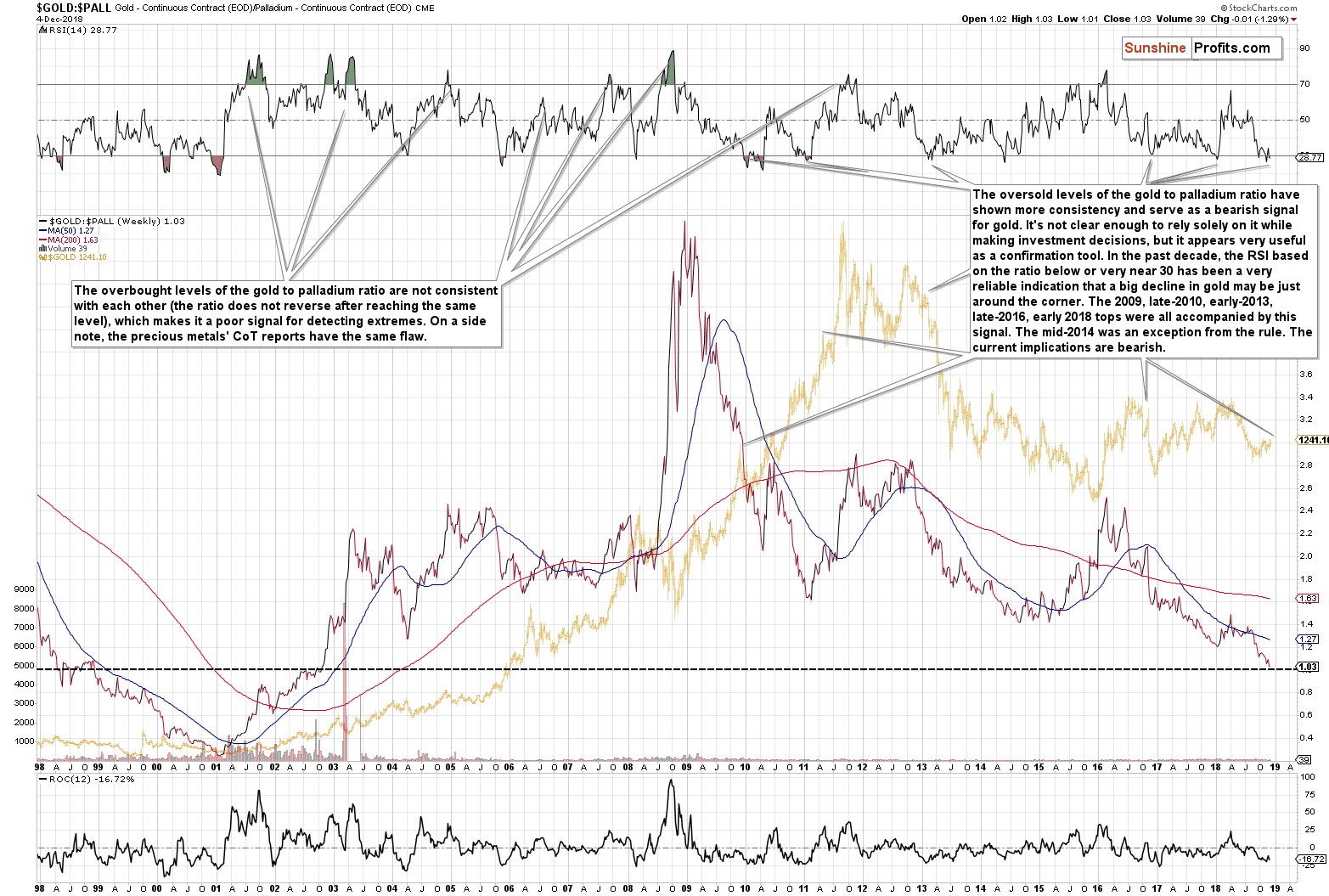 The last time the gold to palladium ratio was trading below 1, meaning that palladium was worth more than gold, was in late 2002. The ratio stayed there for a few months before finally rallying above it, which suggests that investors may need to see both metals at similar price levels before they accept that palladium can really be worth more than gold. The 2002 example, however, shows that the 1 level works as resistance for the ratio, and in the current case it's critical to check if it works as support.
And it does. Not with perfect precision, but it's definitely useful. Back in 1998, when the ratio was breaking below 1, it moved back and forth around this level for several months, and declined below this important level only after this consolidation was completed.
What does it imply for the current situation? It indicates that palladium's march higher may stop for a while. Moreover, if gold declines in the following weeks, it may decline as well in order to keep the ratio close to 1.
The key question that you are probably asking yourself is why does this small market (the size of the palladium market is tiny compared to the one of gold) matter for those, who are interested in gold, silver, and mining stocks, not only in palladium. The reply is that, when approached carefully, palladium's link to gold can serve as a technical signal.
The gold to palladium ratio by itself is not range-bound. It moves extremes that are not necessarily consistent over time and because of that it's not really useful on its own. However, applying an indicator that would transform the ratio movement into something that's more range-bound can provide us with more valuable information. We'll use the RSI indicator, which you can see in the upper part of the above chart.
Disclaimer: All essays, research, and information found on the Website represent the analyses and opinions of Mr. Radomski and Sunshine Profits' associates only. As such, it may prove wrong ...
more