Globally Synchronized Asynchronous Growth
Industrial Production in the United States rose 3.5% year-over-year in April 2018, down slightly from a revised 3.7% rise in March. Since accelerating to 3.4% growth back in November 2017, US industry has failed to experience much beyond that clear hurricane-related boost. IP for prior months, particularly February and March 2018, were revised significantly lower.
(Click on image to enlarge)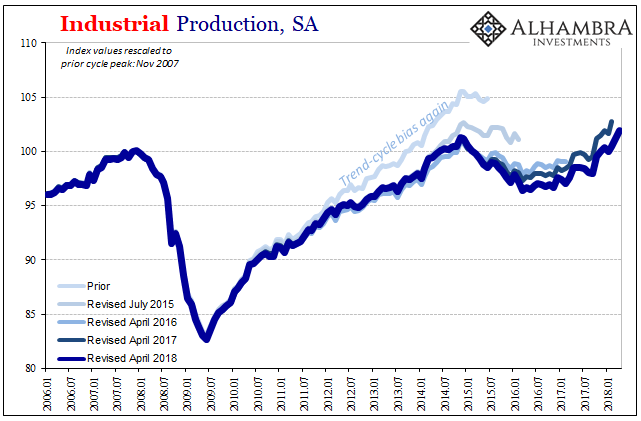 (Click on image to enlarge)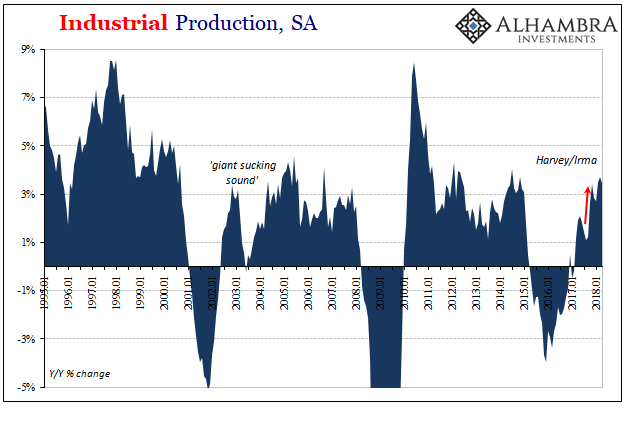 The one big bright spot continues to be the energy sector. Oil production has blown through record highs of late, and growth continues to be actually robust. Year-over-year, crude production was up an impressive 16%, the highest rate of expansion since early 2015. The energy sector has now fully rebounded from the oil crash of the "rising dollar" and is back to its 2014 condition.
(Click on image to enlarge)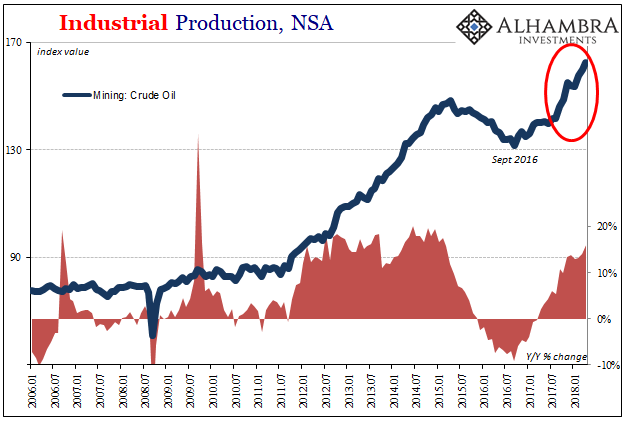 On the flipside, US manufacturing remains stuck in low levels of expansion even after experiencing a prolonged recession during the 2015-16 downturn. The IP index for Manufacturing was up just 2% year-over-year in April, down from 2.7% in March and 2.3% in February. Any of these rates are about half of what we would expect of a healthy and comprehensively growing economy.
(Click on image to enlarge)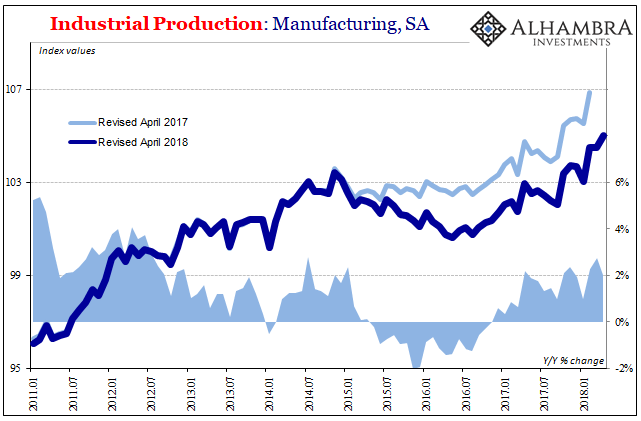 This sector, too, is back to levels of expansion last experienced four years ago. Unfortunately for the US economy, unlike in energy 2014 wasn't a particularly robust period for manufacturers. To be only growing at that pace after being forced ("unexpectedly") into almost two years of contraction in between isn't a positive sign, and certainly does not suggest that anything has changed as a baseline indication.
One of the pieces holding it back is the auto sector. Domestic motor vehicle production has been extremely volatile since early last year. The destruction of so many thousands of vehicles by Harvey and to a lesser extent Irma is partially to blame for the big swings, but overall the problem is really a simple macro imbalance.