Global Rally Returns As Markets Fade Trade Fears, Dollar Slides
One day after the biggest S&P drop in a month, stocks have regained their composure putting trade and global growth concerns on the backburner, and global stock indices are generally a sea of green this morning.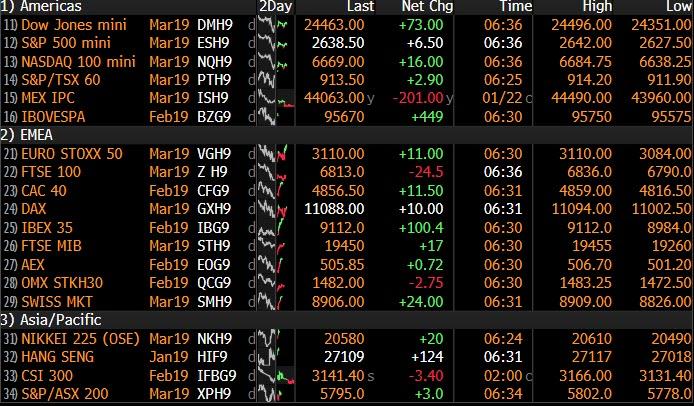 Trading was initially choppy overnight as hopes of more stimulus measures from China to shore up economic growth clashed with worries over progress between Washington and Beijing to resolve a trade spat between the world's top two economies. The MSCI world equity index was down 0.1 percent, with Asian equity markets choppy as the region attempted to shrug off the headwinds from the US, where stocks slumped on Tuesday as the risk averse tone and lingering global growth concerns caught up with the major US indices on return from their extended weekend.
The FT reported that the US turned down China's offer for preparatory trade talks, which was later denied by NEC Director Larry Kudlow helping U.S. equities pare some losses though the fresh concerns about U.S.-China relations kept share prices in check. Early trade jitters pushed the MSCI index of Asia-Pacific shares ex-Japan lower by 0.2%, stalling after climbing to a seven-week high on Monday.
"The main culprit for the risk-off tone this morning is the change in sentiment around U.S.-China trade talks .... That seeped into Asia overnight and Europe this morning," said Edward Park, deputy chief investment officer at Brooks MacDonald.
Australia's ASX 200 (-0.3%) was subdued with underperformance in the energy sector after crude prices slipped by over 2% and Nikkei 225 (-0.1%) was dampened by disappointing trade data including the sharpest drop in exports since October 2016.
However, sentiment in Tokyo was propped up by a weaker currency after the BOJ cut its inflationary outlook slashing 2019 core CPI from 1.4% to 0.9%, even as it kept its monetary policy, sending the USDJPY to new highs and boosting local stocks while Japan Display shares surged on reports it is in investment discussions with TPK and Silk Road Fund. 10yr JGBs traded sideways throughout most the session amid the indecisive risk tone in stocks and then saw choppy trade in reflection of sentiment in the region and following an unsurprising BoJ decision to keep policy setting unchanged.
Elsewhere, Hang Seng and Shanghai Composite confirmed trader indecisiveness after mixed actions by the PBoC as it conducted a Targeted Medium-term Lending Facility for the first time ever which was at a lower rate than MLF rates and is aimed at spurring lending to small firms, but conversely refrained from reverse repo operations which resulted to a daily drain of CNY 350bln.
A fresh batch of disappointing corporate updates from European companies further knocked confidence about fourth-quarter earnings, pushing European stocks lower for a third session at the start of trading, with the Stoxx 600 down as much as 0.5%, with bourses all across Europe losing ground as a profit warning by Ingenico sent the French payment group down over 12 percent and hit the whole European tech sector.
However, sentiment reversed sharply just after the open, with most European equities trading mostly higher [Euro Stoxx 50 +0.2%], after recovering from opening losses, taking the lead from Wall Street.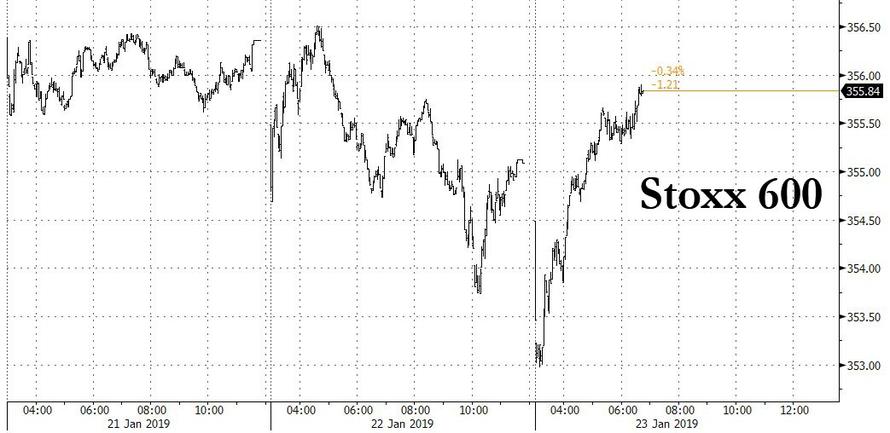 Echoing the rebound in Europe, U.S. futures pointed to a positive start for Wall Street after the S&P 500, Nasdaq and the Dow all posted their biggest one-day percentage drops since Jan. 3 on Tuesday.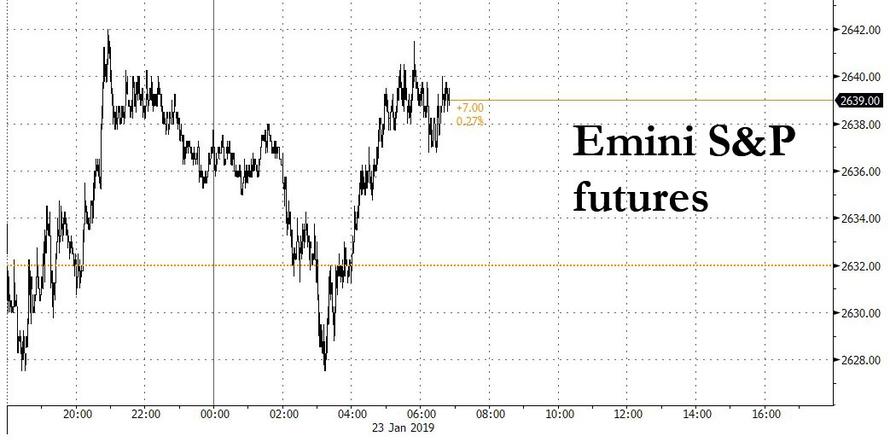 Still, despite a modest return of bullish sentiment, the ride ahead will be bumpy: Justin Onuekwusi, a fund manager at Legal & General said central banks' stimulus unwinding, China's slowdown, the broader impact of trade wars and populist rhetoric from politicians were all keeping markets on edge. "All these issues have an impact on markets. Every time you have an increase in rhetoric, markets react. It feels like there is a greater political risk premium. The biggest near-term risk is that as you see markets fall, confidence drops and you get people not spending which becomes self-perpetuating. The near-term probability of that has increased."
In FX, the U.S. dollar slumped to session lows having trading near a three-week high earlier after the Bank of Japan left monetary policy unchanged as expected, boosting risk appetite and sending the yen lower. The Bloomberg Dollar Spot Index fell for the first time in seven days in a rather muted session in currencies, with short-term positioning dictating price action. The yen weakened as the BOJ lowered its inflation outlook, while the kiwi advanced as consumer-price data beat estimates. Treasuries slipped as oil prices rose, while euro-area bonds were mixed as stocks in Europe and U.S. equity futures rebounded. Sterling rose as the U.K. parliament moved closer to ruling out a no-deal Brexit. The euro was a shade lower at $1.1358 but remained in close reach of a three-week low of $1.1336 set on Tuesday, weighed by recent weakness in the euro zone economy and worries about fallout from Brexit.
In the key central bank event overnight, the BoJ kept monetary policy settings unchanged as expected with NIRP held at -0.1% and 10yr JGB yield target at around 0%. Furthermore, the BoJ extended its lending scheme for 1 year and stated that economic momentum for reaching price goal is sustained but lacking strength, while it added that risks to price and economic outlooks are skewed to the downside. BoJ reduced Real GDP forecasts for FY18 but raised Real GDP forecasts for FY19 and FY20, while it reduced Core CPI forecasts on all years through to FY20. BoJ Governor Kuroda said the downward revision to price outlook is due to the temporary decline in oil prices, Kuroda expects inflation to pick up towards the 2% target. Adding that downside risks from overseas are heightening due to US-China trade friction and European problems.
In the latest Brexit developments, PM May is reportedly set to force ministers to keep a no deal Brexit on the table despite threats of ministerial resignations. This has been seen as a defence mechanism against the Labour Party's potential support for the Cooper-Boles Brexit delay plan. UK Tory party Brexiteers concerned about prospects of a delay, have suggested they could be won over if UK PM May can get a serious concession from the EU on backstop. Following this, ITV's Paul Brand tweets "Jacob Rees-Mogg will say in a speech today that the backstop remains "the one absolute obstacle" to backing PM's deal BUT he's "encouraged by signs of movement". Sun's Steve Hawkes reports "Labour has told second referendum campaigners it is backing the Cooper-Boles Amendment". Has subsequently been confirmed by a Labour party source, stating it is 'highly likely' they will back the amendment.
Disclosure: Copyright ©2009-2018 ZeroHedge.com/ABC Media, LTD; All Rights Reserved. Zero Hedge is intended for Mature Audiences. Familiarize yourself with our legal and use policies every time ...
more