Global Asset Allocation Update
The risk budgets are unchanged again this month. For the moderate risk investor, the allocation between risk assets and bonds remains at 40/60. I struggled more with this decision than any in recent memory but in the end there just isn't sufficient evidence to make a change. Raising or lowering the allocation to risk assets right now would require making too many assumptions about the future and I'm not in the business of foretelling the future. Credit spreads did narrow again over the last month but not enough, as last month, to change the overall trend toward wider spreads. All other indicators continue to support the bearish case. Sentiment does seem to support the case for risk assets but isn't a primary consideration in our allocation process and not as clear cut as it seems in any case.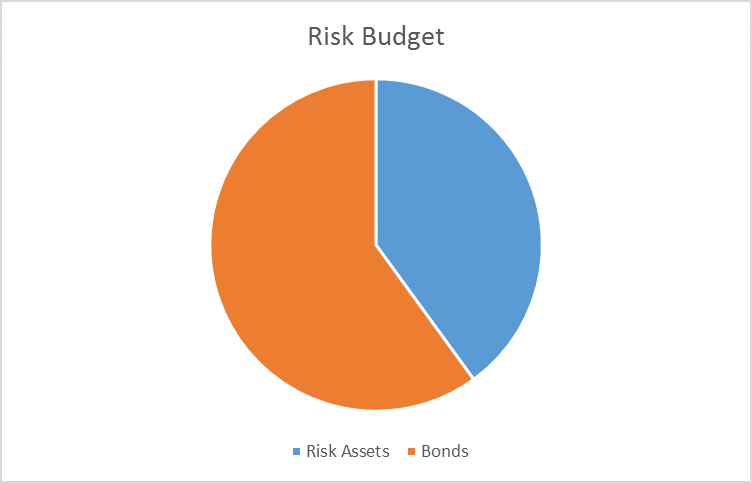 As I related in the Bi-Weekly Economic Review, the economic news recently has not been encouraging. The negative turn in the economic data has been reflected most directly in the bond and currency markets. The yield curve continues to flatten while the 10 year Treasury yield pushes toward record lows. The US dollar index is again testing its recent lows, threatening to break the uptrend of the last few years. Stock and junk bond traders have taken lower rates and a cheaper dollar as a positive, a dubious assumption in my opinion and contrary to the survey based sentiment readings. Investors may tell pollsters they are not bullish but their portfolio say something entirely different.
Indicator Quick Review
Credit spreads: Spreads continued to narrow falling from 6.46% at the last update to 5.86%. That still does not break the widening trend that first started in the summer of 2014. Spreads globally have generally narrowed since early February during this risk on phase but it seems more a reflection of risk appetites than any real improvement in the fundamentals.
Valuations: Nothing has changed with regard to valuations. US stocks are expensive and the rest of the world is generally cheaper.
Momentum: Long term momentum for US stocks has not changed, still negative. Momentum continues to favor gold and bonds over stocks.
Yield Curve: The curve resumed its flattening trend, the 10/2 spread dropping 14 basis points since the last update.
Credit Spreads
Credit spreads continued their short term narrowing but the longer term widening trend is intact. The weaker dollar has driven this rally as it has pushed oil prices higher and reduced concerns about the shale industry. I think that could prove a mistake as $50 oil is not going to save the shale industry from its previous excesses. Oil companies may be ready to drill at $50 but I suspect their bankers have a different view. I also question how much higher prices can push based on just a weak dollar. To move higher from here would seem to require a step up in global growth expectations. That would also seem to apply to other commodities, gold being the one exception to that rule. In any case, with spreads still 70% wider than where they were two years ago, there is little reason to make a long term change to our portfolios.
Disclosure: This material has been distributed for ...
more