Getting Back Up To Speed On Loss Of Speed In US Economy
For much of 2018, the idea of "overseas turmoil" lived up to its name. At least in economic terms. Market-wise, there was a lot domestically to draw anyone's honest attention. Warnings were everywhere by the end of the year. And that was what has been at issue. Some said Europe and China are on their own, the US is cocooned in a tax cut-fueled boom. Decoupling, only now the other way around.
The Bureau of Economic Analysis (BEA) is still catching up after the federal government shutdown. The agency has now revised its release schedule for the major economic accounts it is responsible for. Rather than the usual three stabs at GDP, there will now be just two. On February 28, the numbers for Q4 will be published with only a partial update included; meaning, it will incorporate more data than the typical preliminary figure but not as much survey information as the usual second estimate.
A final GDP number for the fourth quarter will be released as scheduled on March 28.
The other big one is Personal Spending and Income. On March 1, the BEA will deliver two months instead of a single; reporting on December as well as January as scheduled. The data is already three months old, stuck on November.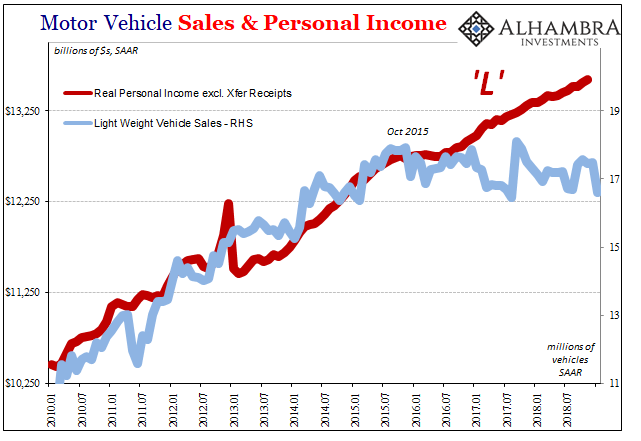 Prior income trends had suggested slowing income gains, not accelerating as a LABOR SHORTAGE!!! would have it. With the Census Bureau on Friday finally putting out shocking retail sales numbers for Christmas, there is some added urgency to get the income picture behind them.
Elsewhere, the Federal Reserve wasn't subject to funding issues due to the shutdown; with trillions now in "earning assets" on its balance sheet, the Fed can cover any significant costs all on its own (including, obviously, substantial monetary research; the issue isn't money, which might have been true when M3 was shut down, rather it is willingness). Among the data series it collects is Industrial Production.
And that's right where this potential looming global downturn has shown up. Particularly in Europe, the state of the worldwide goods economy does not look good at the moment.
Disclosure: This material has been distributed for informational purposes only. It is the opinion of the author and should not be considered as investment advice or a recommendation of any ...
more