Generating 15% Returns Using The Growth Rating System
Rationale for Each Criteria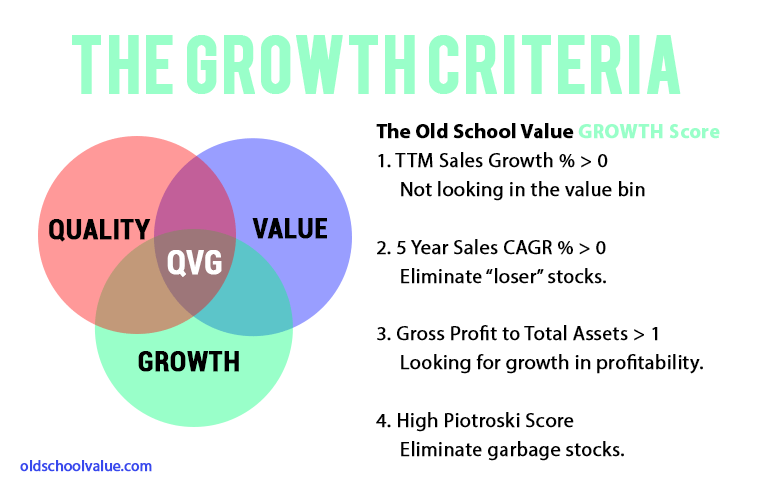 TTM Sales Percentage Change > 0
The goal here is to look for stocks that actually grew. I'm not interested in high flyers and wall street darlings. I'm really looking for growth stocks with a strong value flavor.
5 Year Sales CAGR > 0
Same thing as above. I don't want companies that are perennial losers for 5 years or more.
Gross Profit to Asset Ratio (GPA)
This ratio deserves an article of its own. In this case though, it has the biggest positive effect on the results.
Comparing gross profit to assets tells you whether or not the assets are profitable.
In other words, GPA measures the growth of profitability.
When I look for stocks with a GPA above 1, I'm saying that I want stocks that are generating more than a dollar for every $1 of asset.
A GPA of 0.5 means the company is generating profits of $0.50 for every dollar of assets.
You can see how this is also a great way to compare competitors within the same industry.
Piotroski F Score
I include the F score for quality and value. Best way to filter out horrific stocks so that it doesn't cloud the results.
A Rating System is NOT a Screener
I have to repeat this because I get this question about the results often.
Since my goal is building a rating system where every stock is scored and ranked, it's very different to a screener.
A screener is to simply get stocks that pass specific numbers.
A rating system may have stocks at the top of the list that fail certain criterias. That's why each variable is weighted in the final formula. Stocks outside of the ideal ranges are penalized.
You'll see what I mean in the list of 2015 stocks below.
Top 20 Growth Stocks from 2015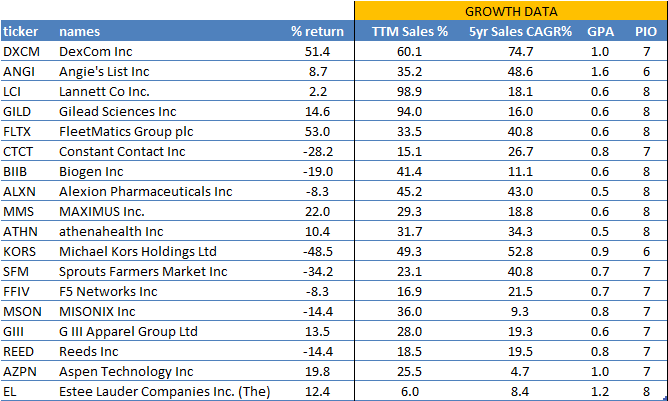 If you look at the GPA column, only 4 stocks meet the criteria of being 1 or above. That's what I meant by a rating system being different to a screener.
If you bought these 20 stocks at the beginning of the year, you'd be looking at a price return of 1%.