Generating 15% Returns Using The Growth Rating System
As much as I don't like drawdowns, I also don't believe in frequent trading as it eats away your portfolio with fees as you end up playing the same game as the traders. They will out trade you with their eyes closed.
Now, there are really 3 bad years here where the Growth Rating seriously underperformed.
2007, 2008 and 2014 where 2008 was horrific with a -44% decline.
That's close to half of a portfolio being wiped out. 2009 more than made up for it, but 2008 is enough to make anyone puke.
However, when coupled with Q and V, the final combined Action Score performed marvelously well in 2008. That's the power of combining Q, V and G all together.
But I'll be talking about the Action Score in another post.
How I Created the Growth Score
I kept the max number of criteria to 4.
The more filters a stock has to pass, the bigger the drop in performance.
Just because stocks can pass a 8 point checklist, it doesn't mean it's a buy. It could be the total opposite where you are too strict and end up only allowing mediocre upside stocks to pass through.
Here's what I narrowed the Growth criteria to:
TTM sales percentage change: greater than zero
5 year sales CAGR: greater than zero
Gross Profit to Asset Ratio (GPA): greater than 1
Piotroski F Score: higher the better
Here's the initial backtest I performed that proved I was onto something. This is a 20 stock portfolio backtest.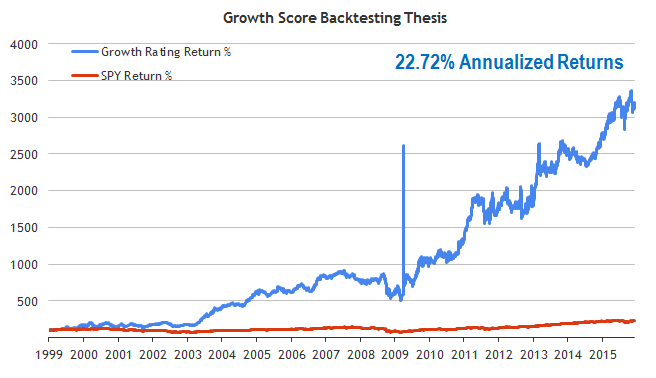 Growth Score Backtest – Full Universe
Woah. Deep breath.
Just theoretical returns.
After eliminating OTC stocks, financials, energy, mining and utilities, the results continue the outperformance.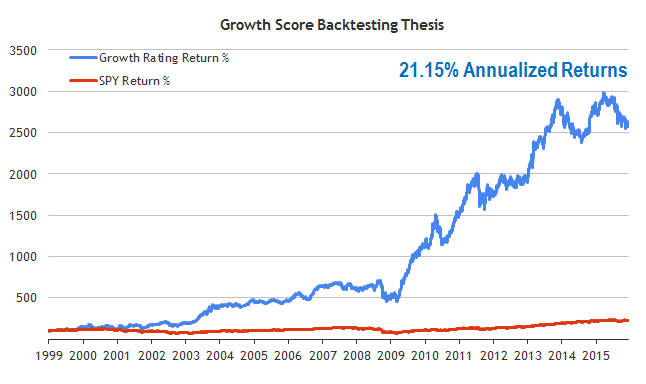 Growth Score Backtest with No OTC, Financials, Energy, Mining or Utilities
Based on this data, I'm really excited because the combination of metrics I'm using is validated and it's not a borderline combination.
The ugly spike in the first backtest is gone. Most likely from a OTC stock that exploded temporarily and crashed back down.