GBP/USD: UK GDP May Provide Next Boost After Bailey Balances Stimulated Dollar
The BOE has shut the door on negative rates – allowing the pound to fight back against the soaring dollar. How big will America's stimulus package be? That is a critical question for the greenback, while the pound relies on British vaccines and growth figures.
This week in GBP/USD: Bailey bailout, dollar strength
Finally, some clarification – the Bank of England will continue working on the technicalities of negative rates, but it has also assured investors that the topic is off the table. BOE Governor Andrew Bailey and his colleagues have also raised their estimate for growth in the fourth quarter of 2020 – raising the base for future gains. Alongside an acknowledgment of vaccines' positive impact, the pound staged a rally.
GBP/USD kicked off that rally from a low point after the US dollar stormed the board. While President Joe Biden discussed compromises with Republicans and moderates in his own party – Democrats in Congress advanced legislation that would allow them to pass the full $1.9 trillion package. That has raised expectations for a larger relief package.
Prospects of faster economic growth – compounded by upbeat economic data – and increased debt issuance triggered a sell-off in Treasuries. In turn, higher yields made the greenback more attractive.
The US gained 49,000 jobs in January, somewhat below expectations, which had been rising due to upbeat leading indicators earlier in the week. Nevertheless, the Unemployment Rate dropped to 6.3%, an encouraging development.
The BOE and the dollar storm somewhat overshadowed positive developments in beating the virus on both sides of the Atlantic, where the winter wave is receding. In the UK, it can already partially be attributed to the country's vaccination campaign.
Covid infections in the US, the EU, and the UK
(Click on image to enlarge)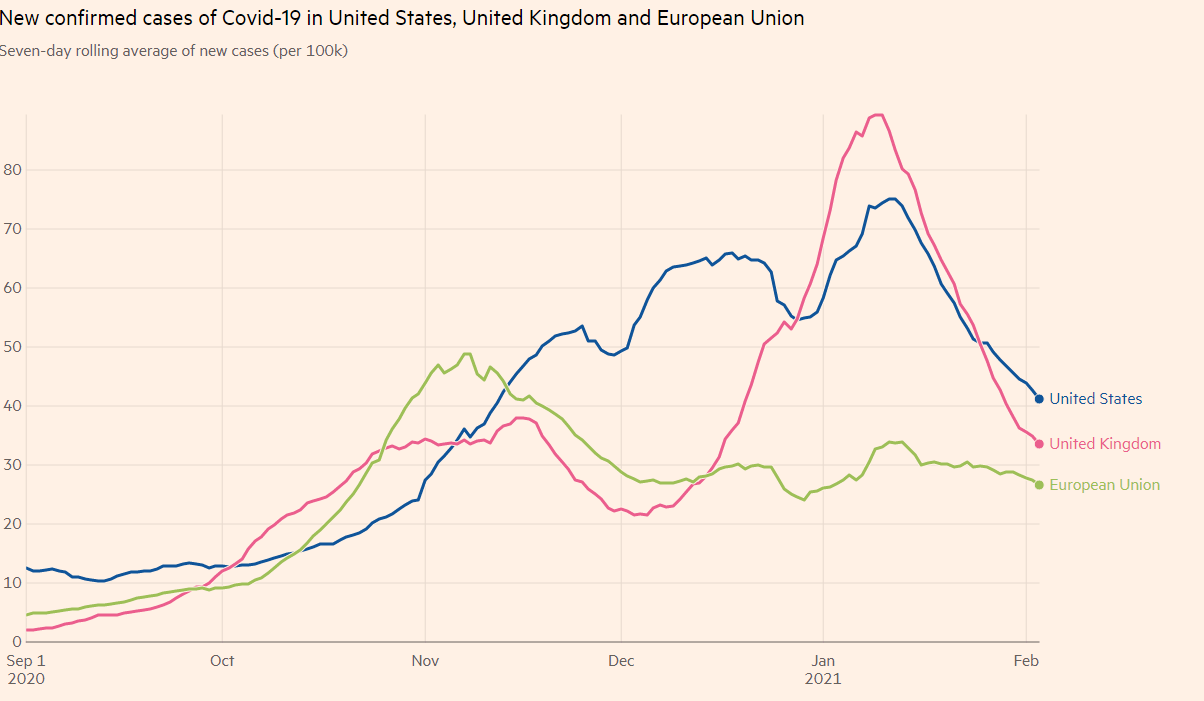 Source: FT
UK events: GDP and vaccines in focus
Disclaimer: Foreign exchange (Forex) trading carries a high level of risk and may not be suitable for all investors. The risk grows as the leverage is higher. Investment objectives, risk ...
more