GBP/USD: Taper Tantrum? Powell May Push Sterling Off The Cliff
The recent resumption of administering first doses may accelerate in the coming week, putting Britain on a firm footing toward the next step of the reopening. Any acceleration would support sterling.
(Click on image to enlarge)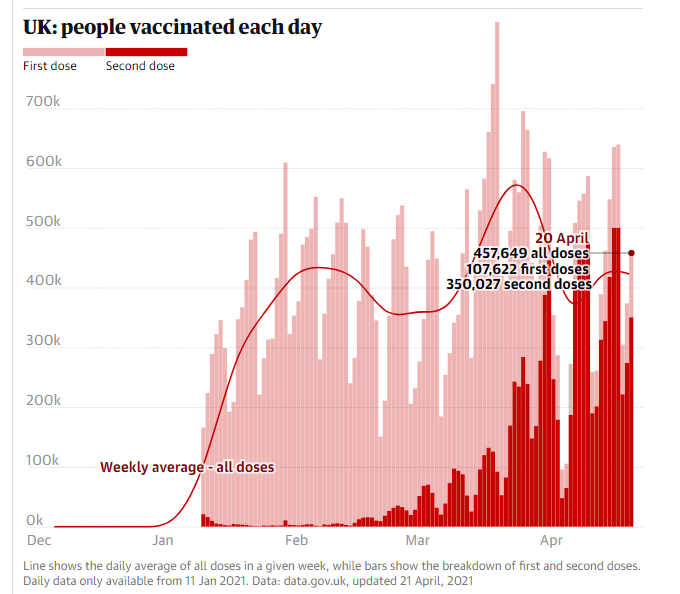 Source: The Guardian
Brexit has been on the back burner in recent weeks, but the imminent EU ratification of the trade deal with the UK may shed fresh light on the impact of Britain's exit and the leftover topics.
Rules regarding the services sector, and especially the financial one, are still up in the air. Any acrimony could push the pound lower while progress toward a deal would support sterling. However, covid overshadows Brexit, and it may remain so once again.
The economic calendar features only lightweight releases, leaving the scene to US events.
Here is the list of UK events from the FXStreet calendar:
(Click on image to enlarge)

US events: Fed and GDP stand out
The American economy is on a roll, thanks to fiscal stimulus and vaccines. The US has already inoculated 40% of its population with at least one dose, flattening the curve. However, a considerable deceleration has been recorded in recent days. While a million injections still represent a satisfactory rhythm, a further halt could raise alarm bells.
Vaccine progress in the US: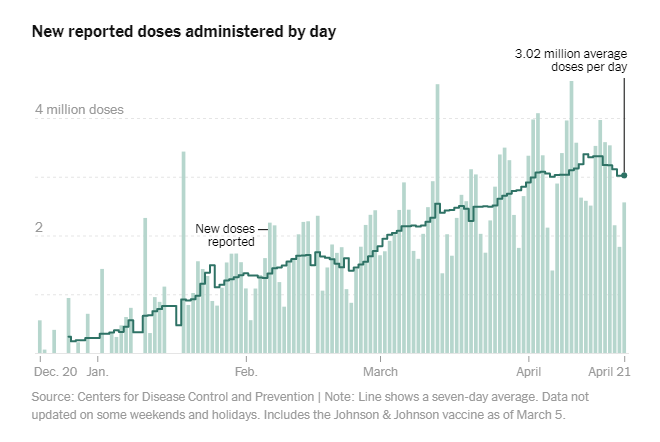 Source: NYT
President Joe Biden's economic plans are being discussed in Washington, and any updates may move markets. However, top-tier events on the economic calendar are set to grab almost all the attention.
Economists expect Durable Goods Orders figures for March to show moderate increases after a slide in February. However, after Nonfarm Payrolls and Retail Sales substantially surprised to the upside, another blockbuster figure for last month cannot be ruled out. The data feeds into growth figures due on Thursday.
The first release of Gross Domestic Product statistics for the first quarter might be mixed, as the first months of the year were a transition period. Covid infections were sky high in January, while February was a mix of an improving virus situation but a "deep freeze" storm. And as mentioned earlier, March was probably when the economy launched its massive recovery.
Disclaimer: Foreign exchange (Forex) trading carries a high level of risk and may not be suitable for all investors. The risk grows as the leverage is higher. Investment objectives, risk ...
more