GBP/USD: Taper Tantrum? Powell May Push Sterling Off The Cliff
This week in GBP/USD: Attack on 1.40 fails
Fresh virus alarm: The world has been worried about India's record daily cases – surpassing 300,000 – and increases in other countries. For developed countries such as Britain, it means a higher risk of incoming variants and also an economic slowdown due to falling demand. These concerns have boosted the safe-haven dollar.
UK Prime Minister Boris Johnson also warned of a potential new COVID-19 wave in the winter. Yet his concerns have come amid a successful local vaccination campaign and a persistent drop in infections, hospitalizations and deaths. The situation is improving across the Western world.
Covid infections in the US, the EU, and the UK
(Click on image to enlarge)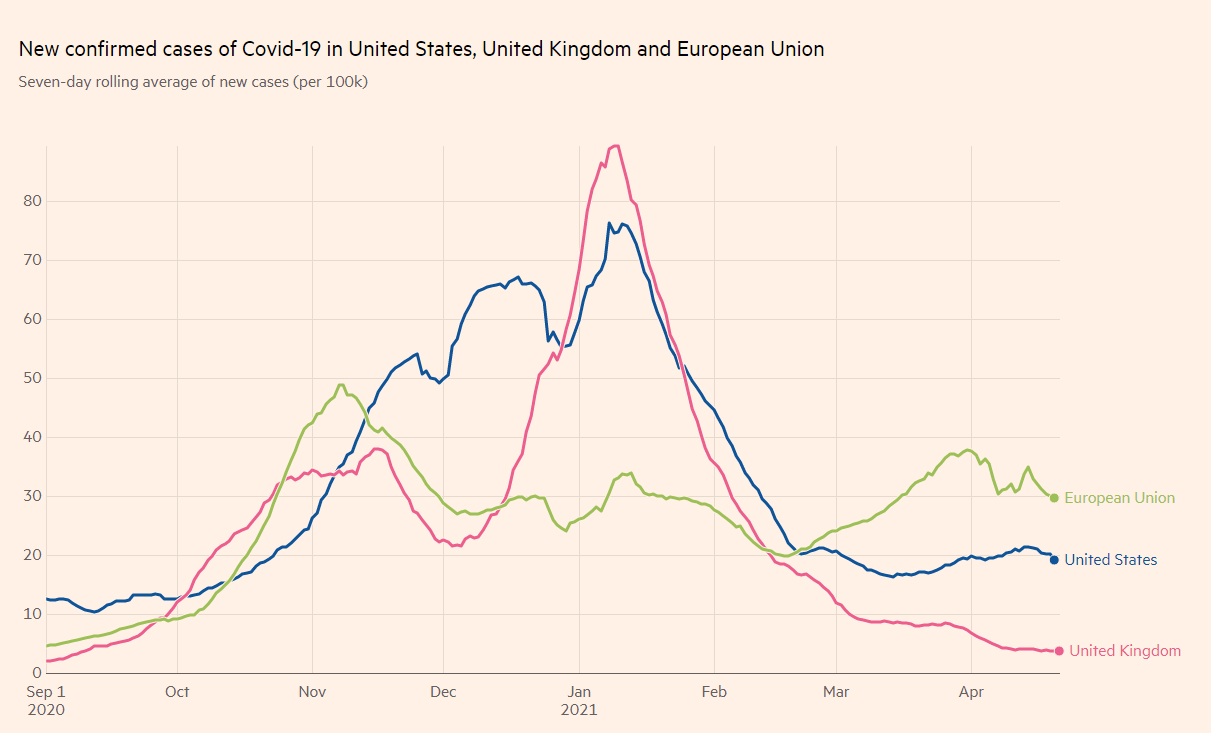 Source: FT
US covid curves: The US also seemed to turn a corner against the virus, as the infection curve flattened and later began dropping. However, the suspension in using Johnson & Johnson's vaccines seemed to have had a chilling effect on the immunization campaign – the pace of new inoculations slowed down after several weeks.
Cool Britania: UK data was mostly positive, with the Unemployment Rate dropping to 4.9% in February and jobless claims edging up by only 10,100 in March – both showing the labor market's strength. The news provided sterling some support.
America booming: On the other side of the Atlantic, US jobless claims beat estimates once again, falling to 547,000 in the week including the 12th – when Nonfarm Payrolls surveys are conducted. The publication gave a boost to the greenback. Treasury yields, which had a dominant role in rocking the dollar, seemed to have a weaker impact after settling below 1.60%.
UK events: End of the dry month, small Brexit comeback
April is about to conclude, and with it, the end of the "dry month" in vaccinations. Fears of a substantial slowdown in immunizing Brits seemed to have been exaggerated, as second doses are being given at full speed.
Disclaimer: Foreign exchange (Forex) trading carries a high level of risk and may not be suitable for all investors. The risk grows as the leverage is higher. Investment objectives, risk ...
more